Autorid
Video and photo Vikipeedia
Estonian text posted 26.12.2019
Body
Stoat or ermine   Kärp       Mustela erminea

 

Least weasel    Nirk        Mustela nivalis      
Wearing ermine fur, the former symbol of royalty, wealth and vanity, is fortunately for the little animal today no longer considered to be "good taste" in society .
We have to do with the smallest European  predators, the penultimate and the smallest one.
A distinctive identification feature of an ermine or stoat in its white winter fur is the black tip of the tail that makes up about one third of the body length which is not always noticeable on meeting it in nature. The same is true for the size differences of the respective species because female ermines may be smaller than a male least weasel. Both have slender and long bodies with short feet. The solitarily living and strongly territorial predators are active around the clock but the very visible fur coat in a snowless winter complicates their life because they have enemies among larger predators as well as among birds of prey.
In the old days a least weasel that had moved to live in farm buildings was considered as a "lucky animal", after all it helped to destroy rodents in the household, but similar habitats are also favoured by  stoats. The slightly larger ermine can also be encountered in forest landscapes where they are fearless hunters who attack prey several times their own size. Generally both species in winter feed on small rodents whom the slender predators can chase in their passages and burrows..
The weights of ermines and weasels are in the interval of 100 up to 250 grams. The daily food requirement of the animal also depends on its size where the smaller ones need up to one third of their body weight in order to avoid death of starvation and for larger individuals a quarter of the body weight. As comparison it can be mentioned that the average weight of a small rodent is about a quarter of a hundred grams .
The first heat period of ermines starts already in February, in May there is reason to discuss the periods of heat and the differences between the species more in detail .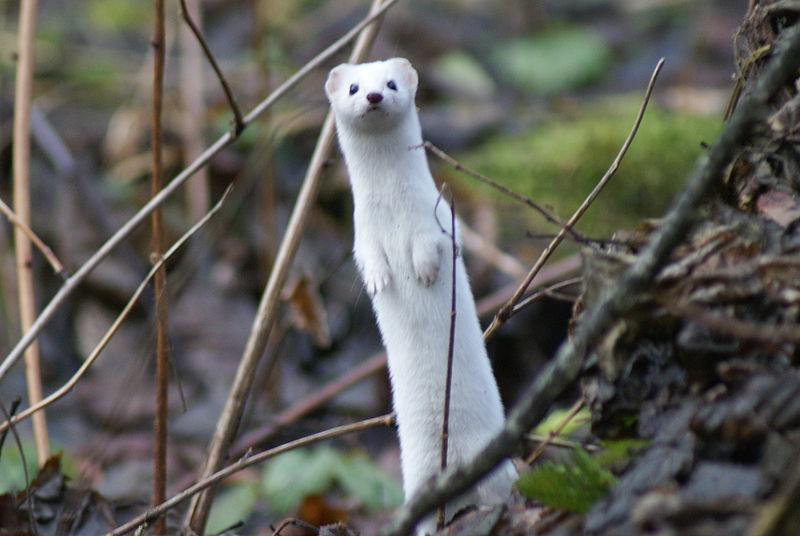 Ermine or stoat