Autorid
Text and photos Tiit Hunt, www.rmk.ee
Translation Liis
Estonian  text posted 02.07. 2018
Body
Summer ended when it had just began, then returned, and thus many times over. Perhaps the Estonian climate makes mischief. The unexpected mid-summer heat in May set nature growing and everything flowering, then the pre-midsummer long dry period again put the brakes on – what do you know, maybe it is some kind of attempt by nature to keep a balance. So at the moment we can meet a cross section of all Estonia's late spring and early to  midsummer plants flowering . The columbine is eye-catching  in this mass of flowers by its colour, shape and peculiar flower form and Father Weather's  pranks have allowed us to see  the beauty of its flowers already for a whole month.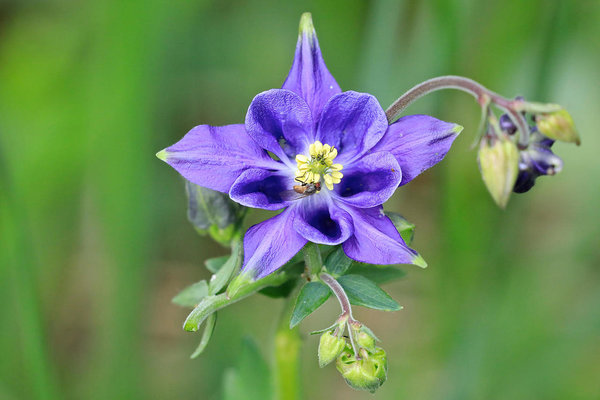 The Aquilegia genus, belonging to the Ranunculaceae or buttercup family, is rich in species and varieties; of native species alone there are around a hundred, to that countless hybrids and cultivars.
In Estonia only the species common aquilegia or columbine occurs but in our gardens all possible variations of columbines are grown, that in turn very easily and quickly produce new variations.
In northern America in contrast tens of species grow and together with the naturally occurring hybrids it is quite complicated to enumerate them exactly .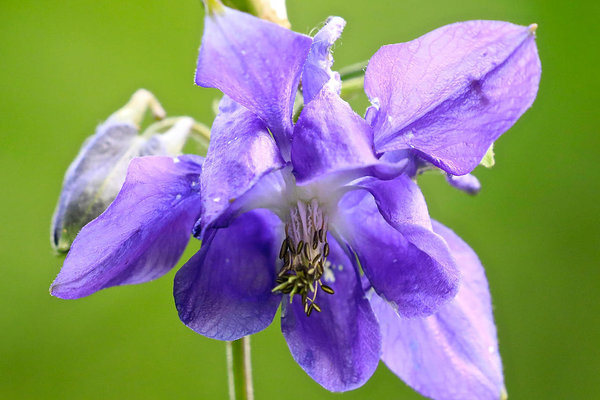 A hundred years ago the nomination of the columbine as the national flower of US was considered – in England there was already the rose and France had the lily and evidently the lack of a flower with corresponding status caused the question – why not? – for the Americans.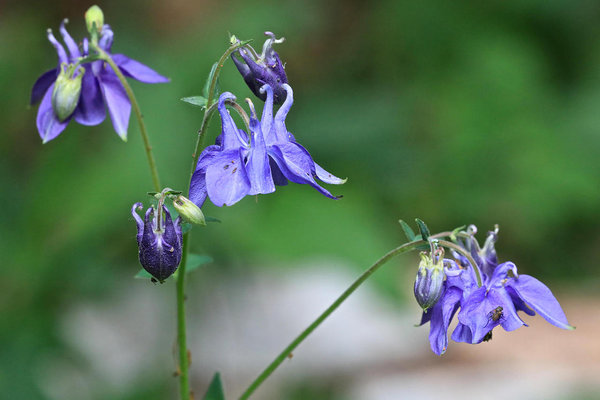 The columbine was a candidate then for several reasons: the common name of the plant, columbine, hints at Columbus who discovered America and the archaic name Columbia for the US which in turn has provided the name for the capital of the nation (D.C. in the name of the US capital "Washington DC" means District of Columbia).
Moreover the Latin name of the international symbol of freedom, the white pigeon, is columba. Or is the link instead to the pride of America, the bald sea eagle (Haliaeetus leucocephalus). because the Latin name of the plant may originate from the word aguila - eagle.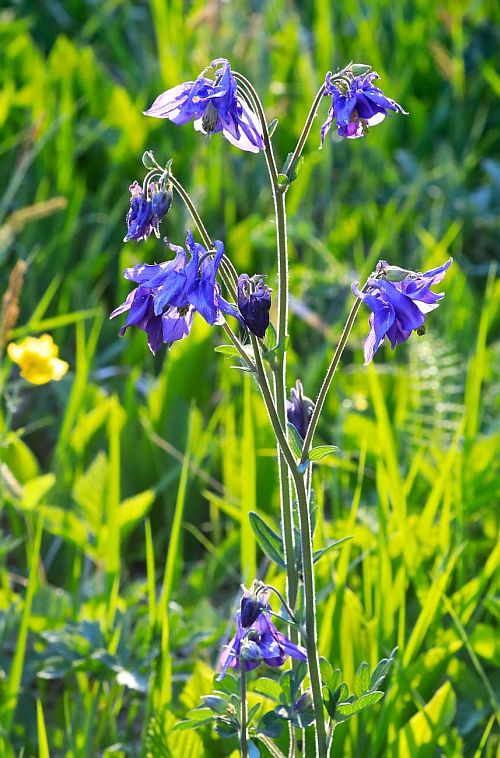 Additional arguments were also the small demands of the species on its growing conditions because the columbine grows almost everywhere in the US, and its good propagation ability since the columbine propagates on its own from seeds.
Despite this the national flower of 1986 instead became the rose as an international symbol of love and beauty, followed strongly by the American marigold or tagetes. In my opinion the latter would have been a clearly better option but perhaps at that time the arguments for the Amercian marigold were seen as too local – the tagetes is a truly indigenous American species that grows equally well in all states.