Autorid
Screenshot from webcam  Seira, LK Forum
English translation Liis
Estonian text posted 22.08.2018
Image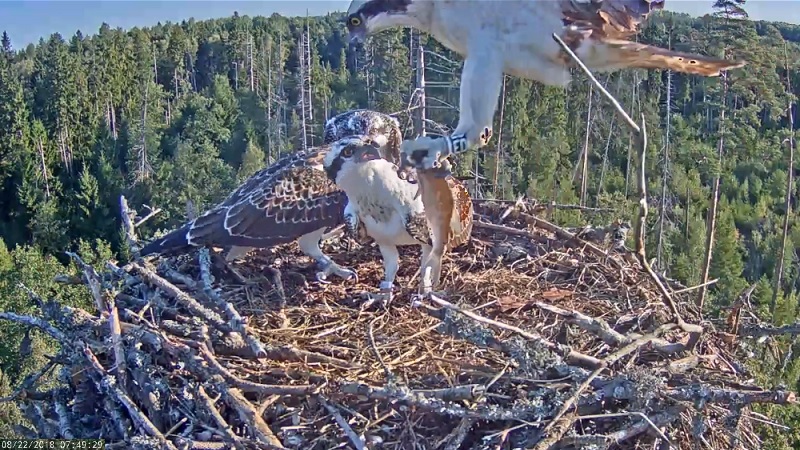 Body
Male Ivo brings fish to the nest. The "ring-fettered" young osprey gets it to eat
Osprey        Kalakotkas      Pandion haliaetus

 
The young ospreys are already two and a half months old. But we will not look at this but at the plastic ring that has got tangled on the leg of one young osprey.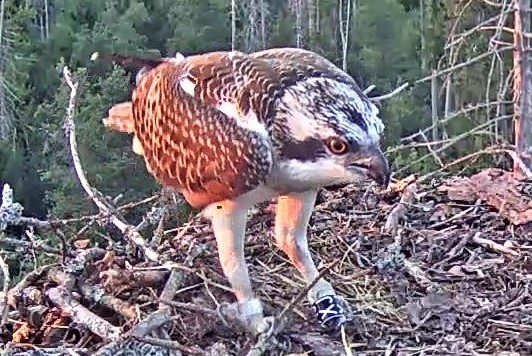 Screenshot from webcam Eike, LK forum
There are not all that many ringed birds to be seen in web camera view. Internationally a new, narrower plastic ring is in use. In the photo we see that the strong and durable plastic ring has got tangled in the claws of the young bird.
It is nearly impossible to help the young bird because young ospreys cannot be caught on the ground with the methods that can be used quite successfully for adult birds. Surely the situation is discussed internationally among ornithologists – maybe changes should be made in ringing or the rings. At some time we can hopefully inform our readers about the decisions of the experts.
The young osprey manages in the nest but almost certainly not in an independent life since catching a prey is more difficult. The bird is also more often seen in the nest as landing in trees and even sitting in them is difficult.
The situation is such that we just have to hope and the thing to hope for is that the plastic ring breaks down. We will write when any changes in the situation appear.
The male cares well for the young birds and the female should also still be there although they generally go on migration earlier.
The LK forum follows the situation carefully, Urmas Sellis has also commented on it: LINK and LINK