Autorid
Screenshot from  webcam  Felis silvestris, LK forum
English translation Liis
Estonian text posted 12.09.2018
Image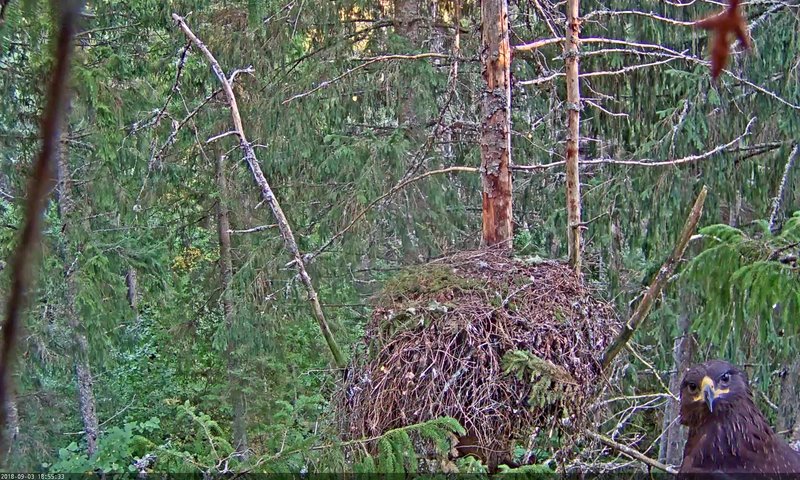 Body
Tõnnipoeg
Greater spotted eagle    Suur-konnakotkas        Clanga clanga
Tõnnipoeg is three and a half months old and rarely visits the nest if at  all. The nest life period has come to an end.
The parents raised Tõnnipoeg and taught the necessary knowledge for eagle life. Mother Tiiu should set out on migration in the second half of September. Father Tõnn stays to keep an eye on Tõnnipoeg and we can still meet them a month after Tiiu's migration. With favourable weather they start the migration earlier.
Where do spotted eagles spend the winter?
Our greater spotted eagle Tõnn who was hatched in Lääne county and who has a transmitter has wintered in southern Spain in the El Hondo wetlands already for many years. Wintering areas for the spotted eagles that have nested in Estonia are thought to be southern Europe and the middle East as well as north-eastern Africa.
The migration of spotted eagles continues. The exteriors of the greater and lesser spotted eagles are rather similar and it is known that they also form fertile mixed pairs. The wing span of spotted eagles is between 130 - 160 centimetres. The plumage of adults is wholly brown, that of young birds can be covered to a greater or lesser degree with brighter spots.
The number of lesser spotted eagles is estimated at up to six hundred breeding pairs in Estonia. That of greater spotted eagles is only slightly more than twenty nesting pairs.
Whom can we mistake for spotted eagles in a flight view?
An experienced observer distinguishes a spotted eagle from the similar buzzard even at a distance from the flight silhouette. A spotted eagle keeps the tips of the wings mostly downturned when in gliding flight, a buzzard as a rule upwards-turned. Should you happen to see the bird closer for observation much white may be seen in the buzzard's plumage while a spotted eagle's plumage is uniformly brown and there is white in it only as solitary spots, somewhat more for juveniles.
The season is ending. Our thanks to the Kotkaklubi (Eagle club), the LK forum and of course all interested watchers!