Autorid
Screencap from webcam IceAge, LK forum
English translation Liis
Estonian text posted 16.01.2019
Image
Body
Great tits, greenfinches, tree sparrows…
Those who feed birds know that the first arrivals are the great tits, already in the morning dusk – the winter bird webcam watchers notice it too.
The earliest is of course some older great tit that knows the neighbourhood thoroughly and has spent the night nearby. Together with the blue tits they cooperate peacefully and nicely in  order  – the older, larger birds are given priority. Marsh tits are the last arrivals among the tits. The first three-quarters of the hour belongs to the tits.
After that later "risers" begin to arrive – nuthatches, greenfinch pairs that in a calmer period stay for a longer breakfast. The male greenfinches are quarrelsome towards other birds but give priority at the food table to their ladies in more modest plumage, staying however close by to guard their own turn.
With the arrival of the first bunch of tree sparrows there is plenty of chirping and twittering and the breakfast of the greenfinches is finished for the time being…
But the tree sparrows are quite tolerant towards the tits that only come to the feeder for a moment to pick up a seed.
Sometimes the feeder may be quite empty for some minutes – something must have disturbed the birds: maybe the houseowner next door stepped out to shovel snow, fetch firewood from the woodpile or start the car or the cat that walks its own paths has been let out … The passerines are also dispelled by larger birds that arrive nearby: jackdaws, magpies, hooded crows, jays or even a sparrowhawk.
When the "danger" has passed the tits arrive first because they know  the environment thoroughly. They know how to move quickly and in shelter of the dense thicket of the surrounding trees and shrubs.
Domestic pigeons arrive to  the bird feeder  before ten o'clock and so it has always been in garden cities, To begin with they peck at seeds spilled on the snow, after that they try to get at the sunflower seeds in the camera view but this has been arranged  rather uncomfortably for them. After a while they fly on to the next location; they too habitually check places that have turned out to offer reliable feeding opportunities. Daring tree sparrow youths are least disturbed by the pigeons.
In addition to the numerous ordinary birds we can each day meet less common visitors too in the webcam area.
Days grows longer by and by, times in the day change but the general pattern of activity can run on as before for some time.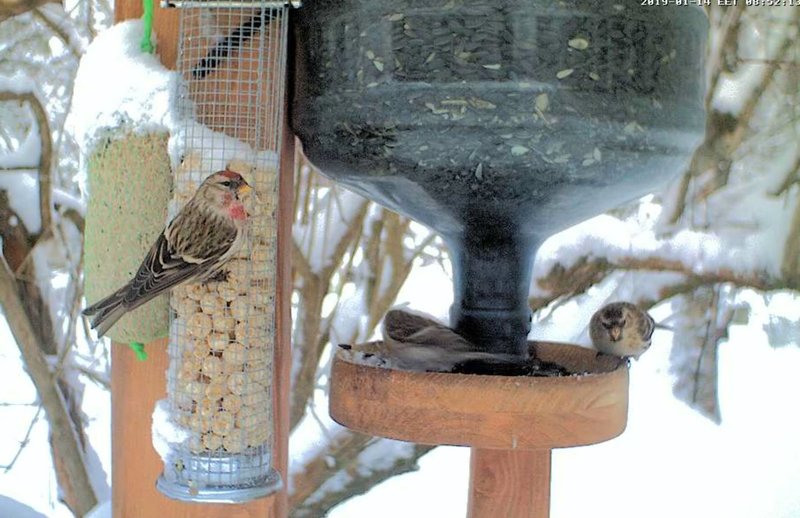 Redpoll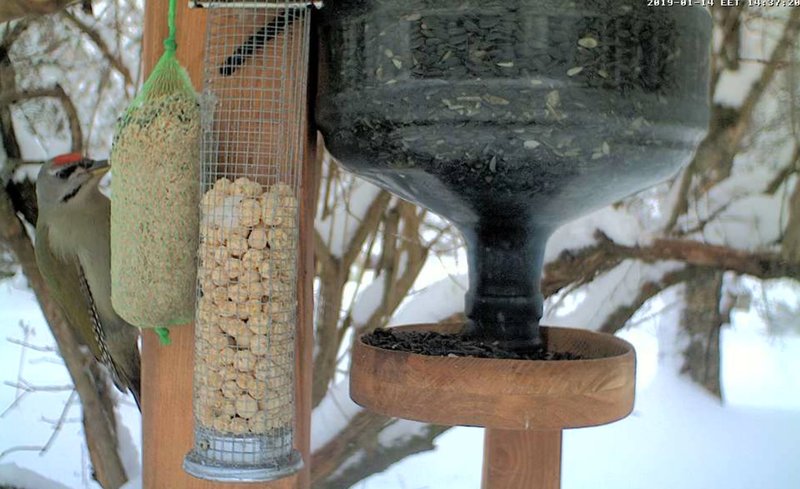 Male grey-headed woodpecker