Body
Goshawk; Northern goshawk     Kanakull       Accipiter gentilis
Urban people meet goshawks increasingly often. In winter migrants from the east and north add to the birds that have nested here and so they are even more easily seen.
Why then in the city where they have also started to  nest? Simply in order to catch prey more easily. In winter there is no lack of domestic pigeons or jackdaws and other corvids in cities.
In the impressive flight view we can see the pale or cream-coloured underparts with dark cross stripes and the long tail with four broad dark bands. The wings are rounded and broad. In the flight view the goshawk makes a couple of rapid wing beats, whereupon  the wings are held tightly together in gliding flight. In changing the flight direction they spread out like a fan.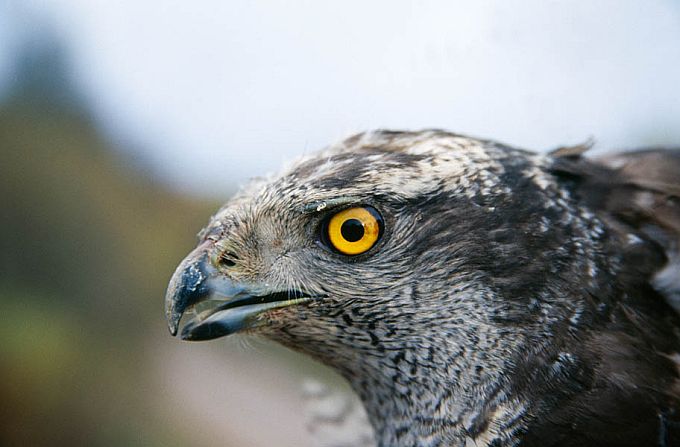 Goshawk
The colour of the plumage does not change with the season. Eyes yellow, beak black, cere yellowish like the legs.
Goshawks have a body length of more than half a metre and the wing span is more than a metre. The females are larger than the males as is typical for birds of prey; weight up to a kilo and a half, up to half less for the "stronger sex".
In winter the goshawk can be confused with sparrowhawks that are active in cities and settlements; usually then it is the female that is larger than the male, similar to the goshawks.
In nature in winter goshawks hunt small rodents and wild hen species in addition to passerines; besides they also feed on carcasses when found.
Goshawk observations : LINK