Autorid
The Estonian Ornithological Society announces
Photo Arne Ader
English translation Liis

Estonian text posted 31.03.2019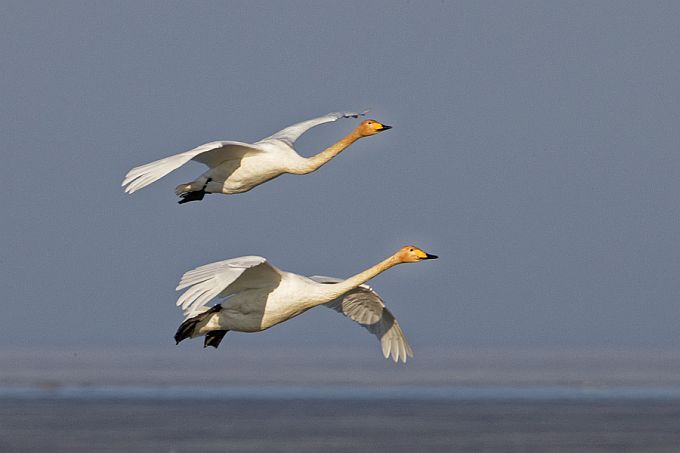 Whooper swans  ( www.loodusemees.ee )
Body
On the observation day that lasted from early morning until lunch this Sunday the title of the most bird-rich city in Estonia was won by Haapsalu where 78 bird species were noted.

Results from the City Bird-Watching Day had been submitted to the Estonian Ornithological Society from 110 participants who observed birds in 24 cities and had noted altogether 130 bird species by 17 o'clock on Sunday.
In Haapsalu 78 bird species were noted, followed by Kuressaare with 71 species. Of the inland cities Tartu with 70 species and Valga with 68 species were the most bird-rich.

This year more species than last year were seen in all cities due to the large number of migratory birds  that had arrived. "The City Birdwatch today reflects the unusually early spring and compared to some years the number of species was twice as high in many cities ," Tarvo Valker, co-ordinator of the city bird-watching day said. "Because of the warm weather the sea bays were free of ice so this year the largest numbers of bird species were noted precisely in coastal cities."

Across the whole of Estonia numerous thrushes were noted, and more often than usual several aqueous species, waders and birds of prey were also seen.
Among others newly arrived migratory species such as the green sandpiper, ruff, marsh harrier, penduline tit and chiff-chaff were seen.
Among exciting species observers also met the dipper, merlin, collared dove and pygmy owl.

The city bird-watching day is organised by the Estonian Ornithological Society  since 2002. Last year the most bird-rich city was Tallinn with 65 species.