Autorid
Video recorded by Urmas Lett, www.eenet.ee
Webcam image captured by Mutikluti, LK forum
 Translation Liis
Body
White-tailed eagle    Merikotkas    Haliaeëtus albicilla
How naturally nest life proceeds after the first egg has been laid. The male knows that now he must begin to feed the female. With the current weather, fishing is not yet particularly easy, not even for a white-tailed eagle, and the waterfowl migration has not started in earnest  – their other important hunting object. At least he caught a roach of a couple of hundred grams to bring to the female. An interesting detail: the female begs for the fish in a similar piteous voice as the early-autumn eaglets – just listen.
Urmas has already pointed out the small size of our female bird; but she is small only in appearance; it doesn't prevent her from being enterprising. Typically female eagles are larger than the males; they weigh  between 4 and 6 kilos. The weight of the "stronger sex" stays at 3,9-4,2 kilos. Long-time webcam viewers recognize the bird in the nest in an instant and can distinguish between them; special features of course play a role.  
As the result of many years of observations it can be said that the first egg is laid between March 10th and 25th. The female will not start incubating at once. We don't know whether there will be two or three eggs in the nest. There is time enough to write about the incubation period.
In any case,  in the video we see much that is characteristic for the behaviour of white-tailed eagles and particularly in early spring it is interesting to observe events in an eagle nest.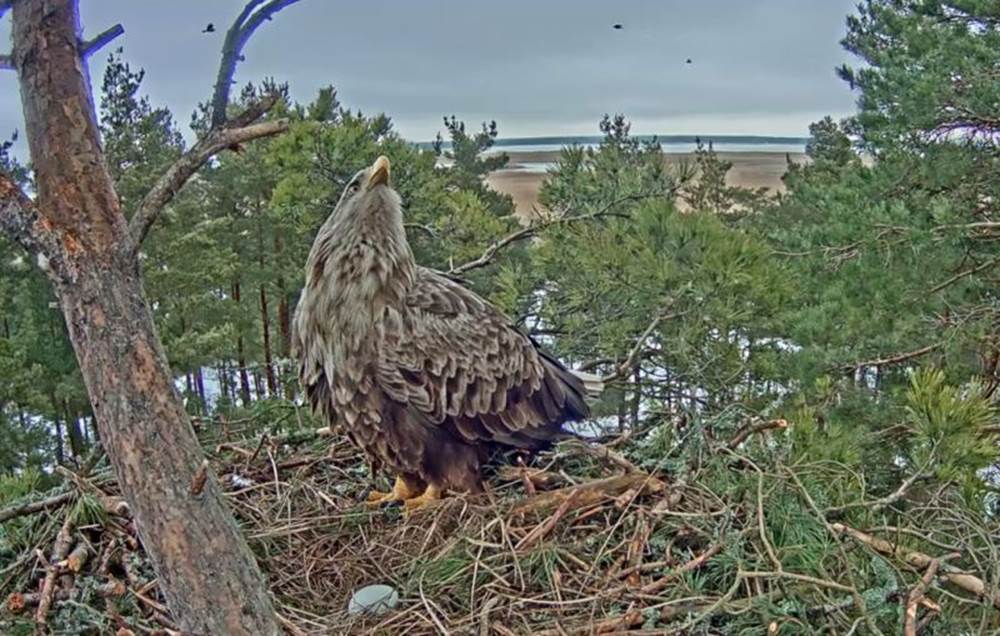 Quite many strange  white-tailed eagles were flying over there today