Autorid
Webcam images captured by Lianaliesma, LK forum
Translation Liis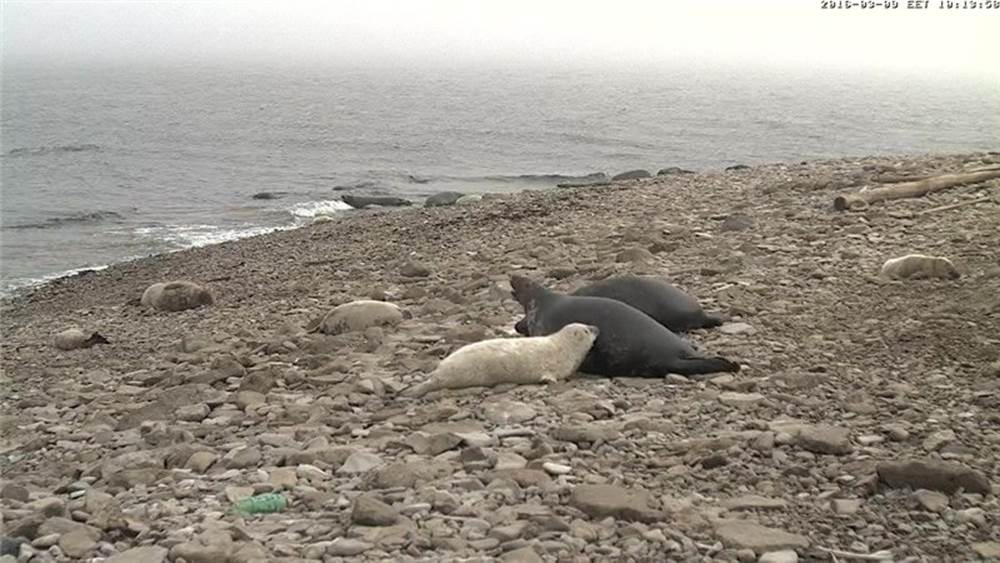 Body
Gray seal       Hallhüljes       Halichoerus grypus
On the weekend, 117 gray seal pups (25 carcasses, not a particularly high mortality rate according to the seal researchers) were counted on the small plot of land where the seal camera is located. At the time of the survey 100 adults were present on land. Ten white-tailed eagles were hoping for easy food.
Giving birth lasts roughly for another week for the gray seals. Our earlier stories have told that the females suckle the pups for barely three weeks. After that the oestrus of the females starts and that the dark-coated seal bulls sense. Small strength demonstrations against co-specifics belong to the ritual. The last seal pups leave for the sea in mid-April.
The females become sexually mature at 4-5 years of age, the males one year later, and mostly we see older adults but sometimes also curious young ones. Adult females very rarely give birth to two pups, mostly just one. The length of particularly large females, recognizable from their large-patterned fur coats, may be two and a half meters. Over the years they turn a little darker but the coats stay largely unchanged like the fingerprints of humans. The hair cover of seals is scanty but the fat layer under the skin is very thick. For aquatic creatures a thick fat layer reduces the specific gravity in water and supports thermoregulation in cold water. Their heads are quite small compared to the body. We don't notice the ear auricle but they can close the ears and nostrils. The short and thick neck (on old seal bulls the neck is covered in fat folds) passes into the streamlined body that ends in a rudimentary tail. Both on land and on sea ice moving is a clumsy process for them – mainly done by the fore-flippers and the body. The hind flippers are pointed backwards and because they cannot be bent forwards there is no benefit from them on land but in water the movements of seals are wonderful to watch. Since the heat period is on it is useful to know that the exterior sexual organs of seals are covered by a skin fold.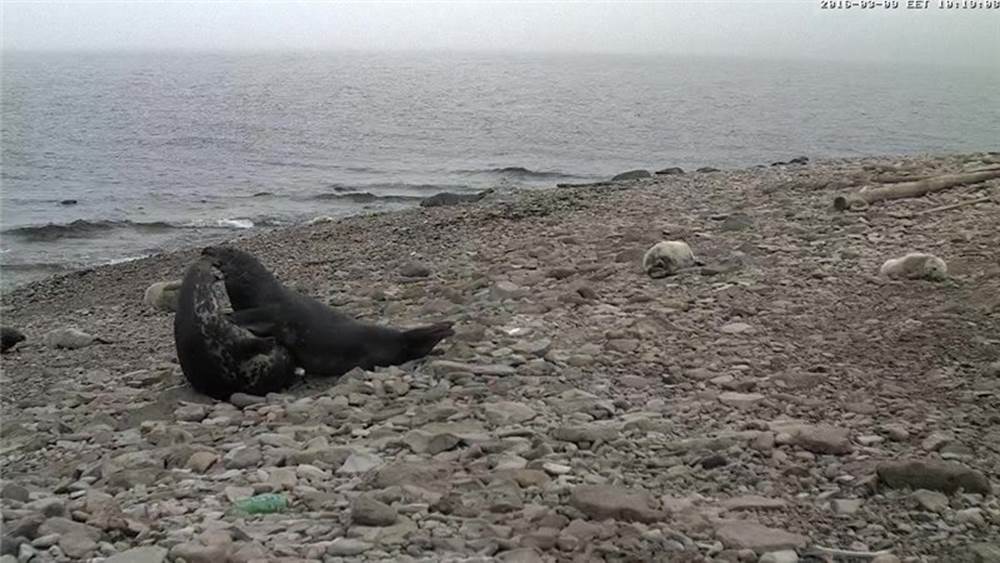 Grey seal pair romping
We will discuss seal pups, moulting and much more in the next few days