Autorid
Text and images  Tiit Hunt, www.rmk.ee
Translation Liis
Estonian text posted 31.10.2017
Body
We will leave the beavers to their own doings for now and end the direct stream transmission from the webcam at the beaver dam.
Since April it has been possible to see the doings of the beavers at their lodge; several fresh tree trunks were also pushed into the ground to see how beavers felled trees. They gnawed these off at their own dates and rates, probably mainly when there was a need to collect material suitable for construction of the dam 50 m downstream. The bark was also used for food until enough tasty green plants had grown up.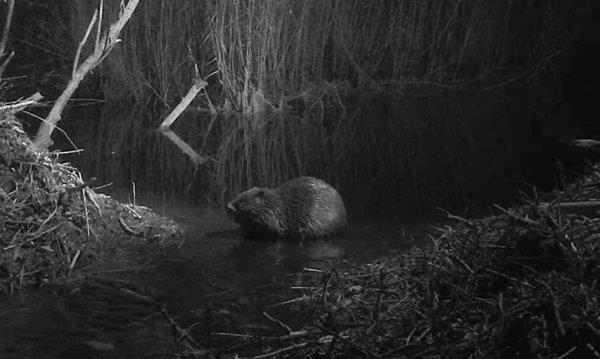 The lodge and its surroundings did of course not belong only to the beavers, a brisk bird life went on here in sound and sight; the chicks of the gadwall hatched from a nest at the foot of the beaver lodge..
A dedicated bird enthusiast noted nearly 110 bird species that were heard or seen in the camera. Once a tawny owl arrived into camera view in the IR light to eat a mouse on a dried branch; among other rare visitors were the buzzard, sheldrake, goosanders, grey heron, black woodpecker …
Several species of mammals too came to inspect the lodge or it was simply there on their way. The path of the elk went straight across the lodge, pine martens and foxes could be seen sitting on top of the nest from time to time or sniffing around it. Quite often roe deer appeared in camera view – with antlers or without. Occasionally the subtenant of the beavers, the water vole, was seen swimming.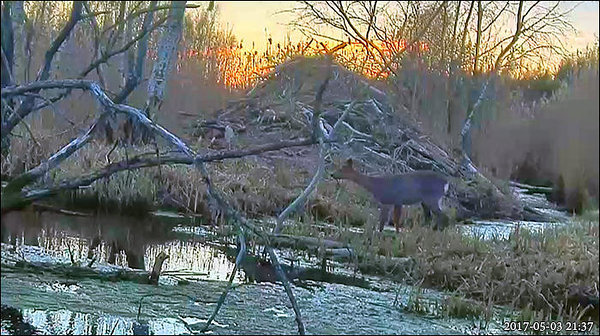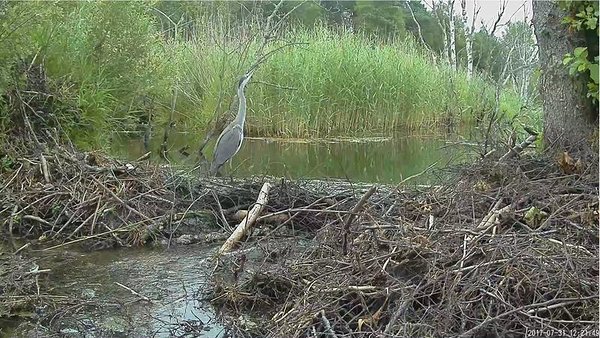 In July we moved the camera to the nearby beaver dam to observe the doings of the animals at the dam. We could observe the renovations of the beavers at the dam at length since each time when humans damaged the dam the beavers put it in order again at an amazing speed. People of course wanted to ensure that their lands would not be flooded, the beavers however that the burrow entrances would be securely below the water surface – and so it went on like a two-handled saw.
By today fields as well as the burrow entrances of the beavers are under water due to the endless rains irrespective of the beavers. So no dam needs to be built and there is nothing to tear down. There is maybe too much water for both parties.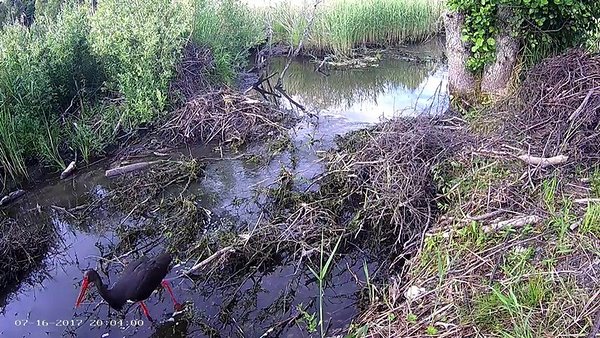 Certainly the rarest species observed at the beaver dam was a black stork looking for food among the dried branches.
 
Kingfishers were both flying and sitting on a willow branch, and two young beavers showed themselves with their mother..
PS: There is really so much water around the camera that we must be inventive about its transport because the relocation needs a car trailer. This time the journey goes to the new deer ground.