Autorid
Video recorded by  Ahto Täpsi
Photo Arne Ader
Estonian text posted 21.01.2018
Body
This terrain suits  the activities of lynxes
Lynx        Harilik ilves      Lynx lynx
A few degrees of frost and a slight snow cover made the animals use the first few days to familiarize themselves with the new conditions in the forest but the track book is already readable.
The tracks of lynxes are really round and large. A walking lynx does not leave any imprint of the long and strong claws, the claws are only pushed out when needed in slippery spots, on passing obstacles and of course when  attacking prey – overall lynxes try to show as little as possible of their activities from the tracks. When a female moves with her offspring the young animals step in the tracks of the adult. No wonder then when the track line of one lynx branches into two or three. Moving like that the length of the steps is less than half a metre. Such a family rests together during the day, in the shelter of a large spruce or in a stand of young spruces.
In the individual track we notice four toes; on the forepaws the lynx actually has five toes but the fifth is set so high up  that it does not leave any trace. The length of the forepaw track is up to nine centimetres, the track of the hind paw is a little smaller – the tracks of a lynx that has moved in snow seem very large to an observer because in the winter the undersides of the toes and soles become covered with dense and harsh hairs. On moving in snow this also increases the supporting surface of the feet of the lynx that weighs around twenty kilos.
Faeces are buried in the snow and urine spots are occasionally also covered with snow.
In February usually the heat period of lynxes in our forests starts. What happens in an animal park and is seen in the web camera is certainly not comparable to that but will still give some idea of what happens. So let us keep an eye on what goes on in nature.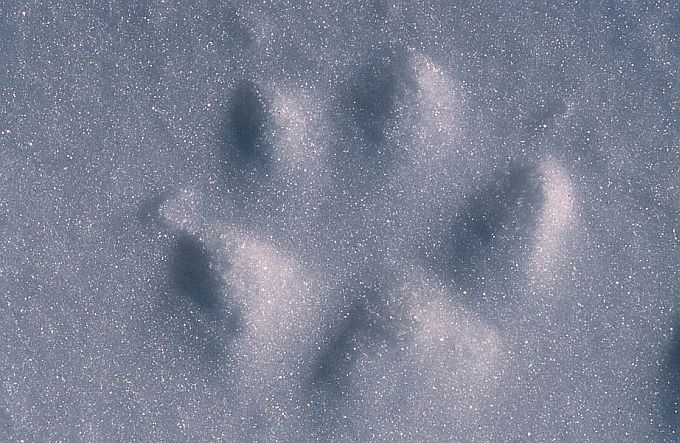 Lynx track