Autorid
Video recorded by Ame; LK forum
Photo Arne Ader
Translation Liis
Estonian text posted 02.03.2018
Researchers have found in their studies that quite as in the relationships among humans and other hominids, acts are used with certain meanings among birds in pair interactions and so it is with ravens
Body
Raven        Ronk or kaaren     Corvus corax
People in the old days believed that today on Candlemas day (February 2nd) the ravens put the first "log" in their new nest, or checked their last year's nest in the Candlemas month – if and how much mending it would need.
The relation of a raven pair is monogamous if fate does not dispose differently. The annual late winter courting strengthens the relationship between the ravens. The young birds from last year start searching for a mate and begin a family life already this year. 
The intelligent and resourceful birds, described in the myths of many people, are even compared to chimpanzees in thinking capacity. In multilevel intelligence assessment the ability to adjust to differing circumstances is important. In intelligence not only knowledge is taken into account; the ability and capacity to apply this knowledge are considered to be vital. Learning ability reflects understanding; this of course varies between individuals. But trained ravens manage in fact to imitate and interpret human speech even better than the parrots that are held to be very talented according to literature.
In the old days people believed that on Annunciation Day, Paastumaarjapäev, on March 25th, the raven pair christened their children in the nest – but until then there is still time left.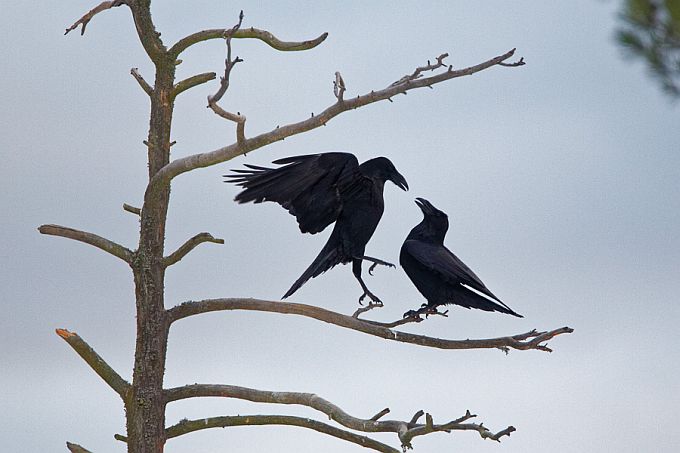 Ravens courting