Autorid
Text  Aivar Leito
Photo Jose A. Román
Translation Liis
Estonian text posted 28.02.2018
Image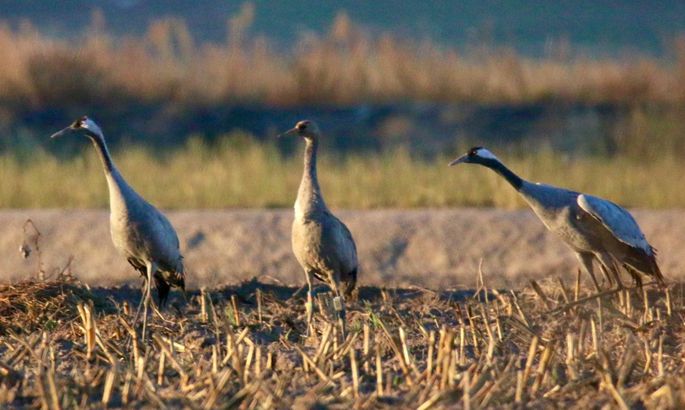 Body
Crane "Loode" (centre) in winter quarters in Spain
On February 20th in the morning crane Loode, caught last summer at Sõrve in Saaremaa as a big chick and marked with a transmitter, started his spring migration.
He spent the winter in the Extremadura province in western Spain. On the evening of February 24th with the first migration jump he reached the well-known migration resting area of Laguna  de Callocanto. It is also used by the cranes breeding in Estonia in the spring as well as in autumn.
The migration continued already on the next day, February 25th, and late in the evening of the same day he already reached the Port Ligat harbour at the Mediterranean on the southern French coast and continued the flight above the Mediterranean throughout the whole night and the next morning without stopping, or continuously for 14 hours, covering about 500 km. First he flew about 175 km straight in the east-southeast direction but  then turned at mid-sea and returned by the same route as he came by. When there was 40 km left to the shore he turned straight along the coast until the city of Montpellier on the southern coast of France. From there onwards 40 km more along the coast in an easterly direction to the well known crane migration resting and wintering area of Camargue where he stayed according to the latest information on the morning of February 28th.
Incredible but crane Loode flew from the evening of February 25th to mid-day of February 26th without landing opportunities for 14 hours at a stretch passing nearly 500 km!
Since it was night and the flight altitude above the sea was only about twenty meters the crane could not see land to use it for visual orientation but  flew by its own "compass" to the exact location, that is, the only migration and wintering area in these surroundings!
Evidently Loode did not travel alone but with his parents and other experienced adult birds who know the whole network of migration pathways by heart!
This migration flight now executed above the sea demonstrates how powerful fliers and navigators our cranes are!
The reason for turning back from the sea may be that the flock of birds was hit by a strong cross wind at sea. The cranes abandoned a battle with the wind and used at first the wind from the back and then the side wind for the retreat which required much less energy.
Looking at the weather maps and European weather news it is rather clear that they were hit by the icy breath of the powerful cold high-pressure area that had reached  the Mediterranean. Evidently this cold wave will not last long and our cranes can continue towards home.     
P.S.
The bird migration map is in transfer  to the spring season, in the next few days there will be fresh information again.