Autorid
Introduction  Tiit Hunt, rmk.ee
Transmission  provided by Teetormaja and EENet
Translation Liis
Estonian text posted 26.04.2018
Body
Direct stream | News | Forum
Stream for mobile devices: Windows 10 Mobile, iPhone, iPad; Android, VLC
Stream for older computers Flash player
Events in the badger camera can be watched once again from Saaremaa, from the same place where we finished in mid-November 2016 after the old fat beaver fell asleep snoring  directly on the ground beside the den 
.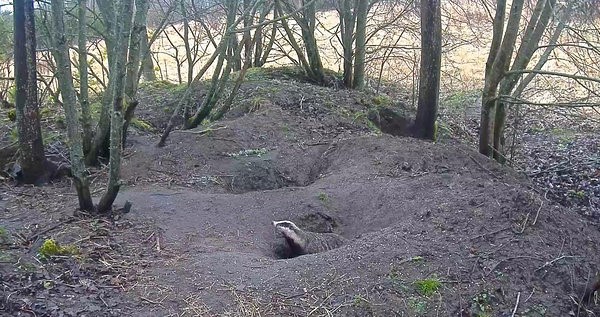 From the year before the last we remember – then there were three cubs in this badger sett that we saw for the first time only at the end of the summer when they already were youths and only a little smaller than the parents and more slender. In the spring and summer we did not once however see small cubs during the whole of the badger camera period.
On installing the badger camera the same thought and question came up: will we see the cubs this time? or will they disappear again unnoticed as tin in cinders at the end of May in an unknown direction so that we will not see them once? There should be cubs this year because badgers have cubs every other year, and this spring is a year for cubs for the badgers in this one.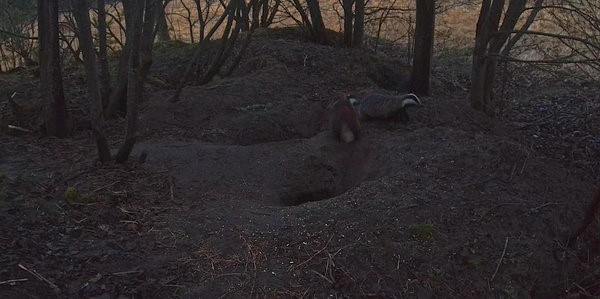 Now the cubs were shown already on  the third night of streaming, although hastily and in a quite different way than we would have expected. To start with a badger came with a sturdy thrashed-about toad in its teeth, and went into the sett with it. Around two o'clock first squeaky and unhappy sounds were heard from the sett and a little later a badger crept out of the hole, a tiny chubby cub in its jaws; the other cub it brought away at about a quarter past three in the night. One explanation may be that it brought away two cubs that had probably just opened their eyes  to a burrow at the edge of the same sett that  is open to the sun and where dry withered grass had been freshly brought in, or then to a hillock about 50 m away with abandoned-looking burrows. There may be some third possibility too but about that we know nothing.
We will see if at least two little badger cubs will come to show themselves off on their own before they grow up. 
The events that took place last night can be watched in the video here .
OÜ Teetormaja, Hatcam and EENet pitch in at the camera installation and stream transmission.