Autorid
Text and photos  Aivar Leito
Translation Liis
Estonian text posted 05.07.2018
Image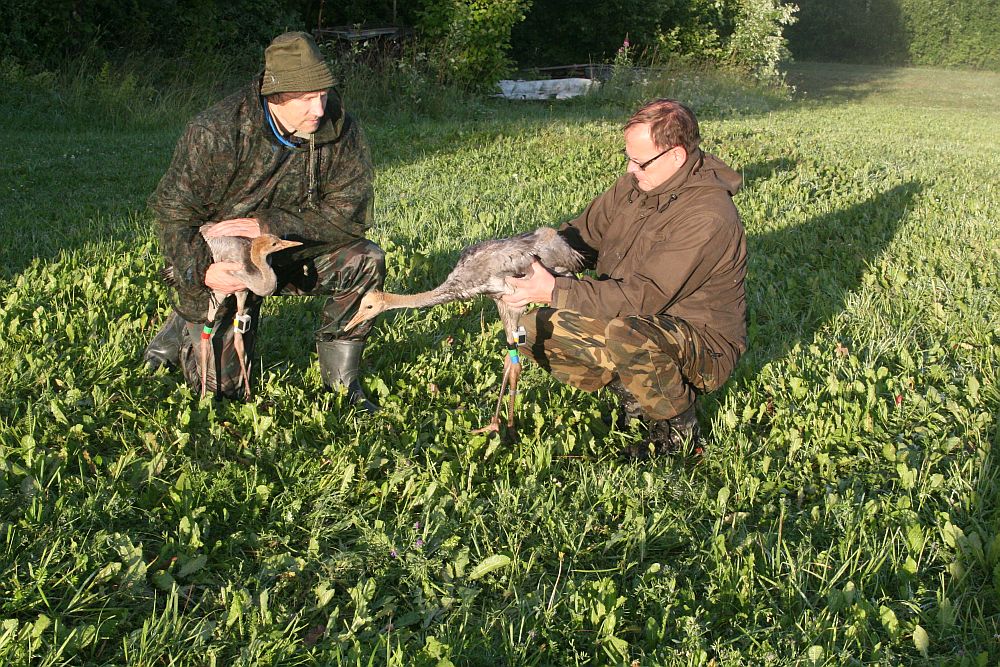 Body
Dear Crane Friends!
I am happy to announce that on July 3rd we caught two big crane chicks at Soitsjärve lake and marked them with coloured rings and transmitters
We used the new generation OrniTrack-L40 - leg-mount solar powered GPS-GSM transmitters manufactured in Lithuania  which have proved themselves well up to now.
The catching was done quickly and effectively, we caught both chicks together at once in early morning. The catchers were, besides me, Ivar Ojaste and Uko Bleive.
The chicks were suitably large weighing 3,2 and 3,4 kilos respectively. After marking and¨measuring we let them loose near the nesting site. They were christened "Soits 1" and  "Soits 2".
According to info from this morning both chicks are alive and well and the transmitters work well. The movements pattern is similar to what they showed befor being caught (I observed the crane family for several weeks in advance by binoculars).
The crane family spends the night on the quaking edge of the lake shore immediately at the water, and in daytime the basic feeding place is a flooded grass meadow about a kilometre away at a channel where they spend the whole day before going to sleep in the nest area in  the evening.
This crane nesting area on the shore of lake Soitsjärv is only a kilometre away from my country house and I have observed it already for over ten years. Altogether already 14 crane chicks have been caught and marked with coloured rings beginning in 2008:  one radio transmitter (2008) and 8 satellite transmitters (2010, 2012, 2016, 2017 and 2018) have also  been installed.
All the cranes with satellite transmitters from Soitsjärve have used the Central European migration routes via Hungary and wintered in Central Europe and North Africa.
The greater part of their migration paths can also be seen in retrospect on the Bird Migration Map: http://birdmap.5dvision.ee/EN/
The other cranes with our transmitters are spending the summer in Estonia close to their hatching areas, only "Aivar" decided to remain in North Lithuania. "Soits 1" and "Soits 2" have not yet been included on the migration maps; it will be done in early September before the start of the autumn migration.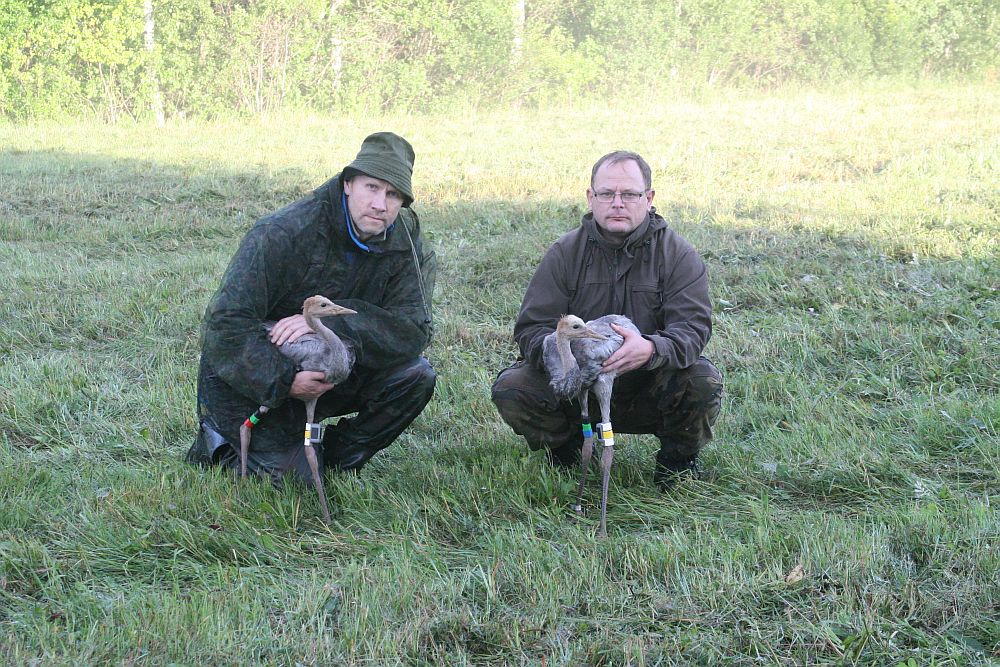 The young cranes ringed and  provided with transmitters, and the workers