Autorid
The author, Kristel Vilbaste, also presents texts in Vikerraadio
Photos: members of LK forum
Translation into English by Maret
Estonian text posted 25.07.2018
Body
Every year in July there are unusual things happening. For example a white-tailed eagle will come to Kütiorg to show off her nestling from this spring, Or I see a black stork flying over my car in the middle of the day.
Past are the months, where big birds were hiding in their nests, away from humans by all means. They were keeping their offspring in secret.
During the summer we were able to see them only with the help of the cameras, that had been placed by their nests by the Looduskalender staff.
The eagle family is active nearby, we can both see and hear the birds. Photo: Crissy
Have you noticed, that the nest of the white-tailed eagle is now really empty; the nestling of Sulev and Suvi, christened Sulvi by nature lovers, left the nest already on July 8th. We had to keep our fingers crossed all summer for this little eagle nestling as the nest was built so high up in the treetops, that it kept rocking in the winds and started falling apart before the nestling had left it. By now there is only the frame left!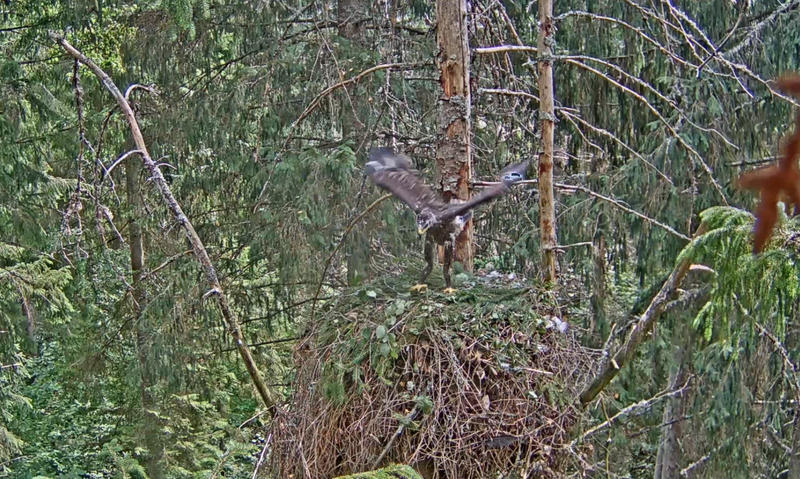 Practice makes perfect. Camera by Lussi.
In the nest of the greater spotted eagle, the little downy nestling has grown into a dapper eagle youngster, who looks almost like his parents, but still has the nice facial features of a young bird. The parents, Tiiu and Tõnn, are busily bringing him food and he will surely soon have wind in his wings.
This summer, both the western osprey and the black stork each have had three offspring grow up in their nests.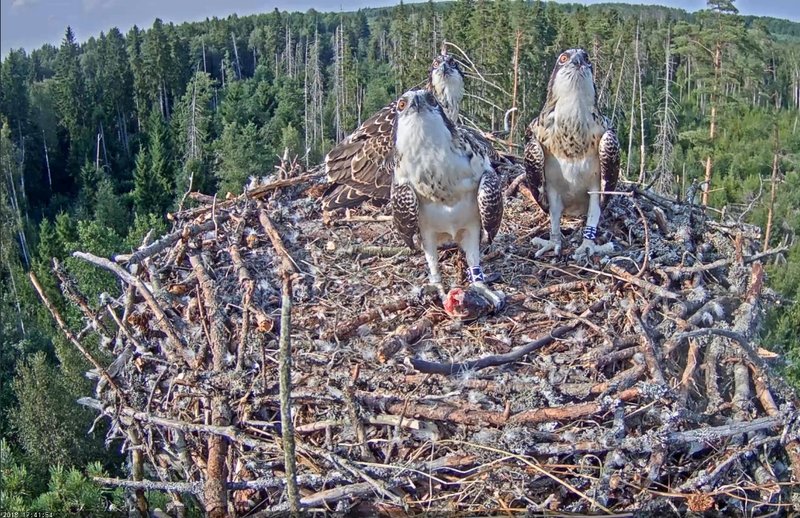 A growing trio. Camera by Sappheira.
The nest of the western osprey is full of fluttering downy feathers and the nestlings already look like full grown ospreys. Their feet have already been ringed. Jaak, Heli and Kaja weigh almost 1.5 kg each and we will surely hear more about them in the future.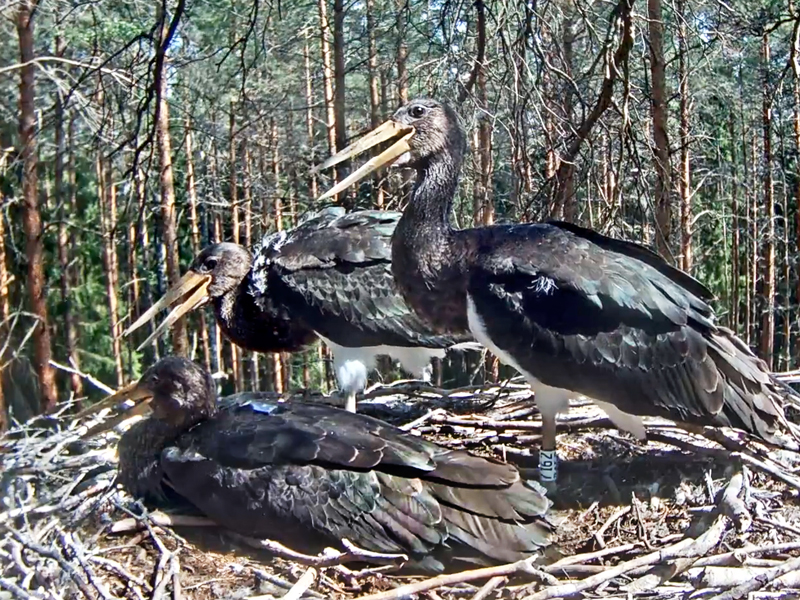 Breakfast will be served soon, the stork nestlings have already sighted the old bird. Camera by Anne.
The two-months old black stork nestlings have received, in addition to the rings, also radio transmitters on their backs, so we can eagerly follow their journey to their winter homes.
According to Looduskalender staffer Gennady Skromnov, the very dry year has really not been good for the "camera birds", but thousands of people have nevertheless enjoyed seeing their actions.
The big birds of prey have to look for food everywhere possible. And while it was customary for them to find food behind a tractor mowing hay, this year they have to leave with empty beaks. My brother, Enn Vilbaste, tells me, that while he usually had up to 60 white storks following behind his tractor, then this year there are only six birds in that cloud of dust looking for food.