Body
Driving around these days you will notice lots of raccoon dog corpses on the roads. Most likely even you yourself have had to do some zig-zag driving in order to save the life of a little animal.
The mention of raccoon dogs usually does not raise any positive emotions in us, probably because of the song, where they as a foreign species crowded out the badgers. Still, they were brought in decades ago for reasons of vanity, as a hat made of raccoon dog skins was a sign of prosperity. Many people were dreaming of such a nice hat or a fur collar, although once that skin got wet, it smelled something awful.
Just because of that smell, the animals killed on the roads are left there  -  the other predators will not touch them.
The peculiar thing is, that this terribly smelly animal is really an exceptionally clean one, who even creates its own toilets in the forest.
You may find in the forest little mountains of their droppings, and those mountains have nice "cranberry eyes" on them. In addition to frogs and insects, the raccoon dogs also feast on cranberries, but don't digest them well. Raccoon dog youngsters learn these clean habits already at a very young age, instinctively, even when growing up motherless.
Seen in car headlights, they are often mistaken for raccoons, the "American animals", and they really do resemble them. Thus they have even received their Latin name  -  "raccoon-like night walker".
Raccoon dogs are a night workers. During daytime, the only place you can meet them is on the roads. If you happen to own a pair of night binoculars, you could set yourself up in an apple orchard and follow the hustle and bustle of these busy animals.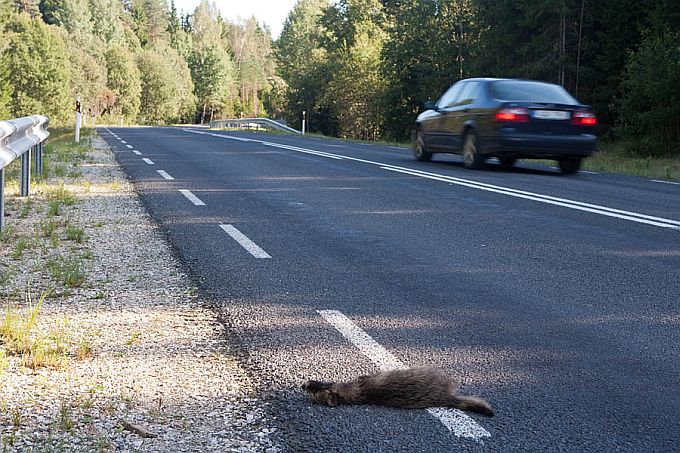 Raccoon dog corp  se on a roadway.