Sisu
At dusk the young wolf was helped back to the forest by hunters of the Pärnumaa Hunters' Association and wolf investigator Marko Kübarsepp.
Photos: Eero Nõmm and Marko Kübarsepp
Estonian text posted by the Animal of the Year Team 24.02.2019
English translation Liis
On the eve of Estonia's Independence Day a heart-warming story delighted us: early in the morning of February 21st  young men made a great effort for our national animal the wolf and rescued a wolf that was caught in an icy river trap at the Sindi  weir in Pärnumaa. The news also reached the  BBC news channel on February 22nd. The widely spread news channel had a thorough review of the rescue operation for the wolf, also noting that the wolf is the Estonian national animal since 2018.
Briefly here is what happened after the rescue operation: the rescued animal was severely chilled and in shock so the young men drove it to the Pärnu Terveks Veterinary Service. The wolf survived the car trip peacefully, resting his head on the legs of its co-passenger. After a brief recovery at the clinic however it had to be caged for safety.
It was a young male born last spring and weighing 32,5 kilos, quite adequate for its age. A check at the clinic confirmed that its general health status was good. The wolf was also given parasite control medication. To use the opportunity to get data for the study of Estonia's wolf population genetic samples were taken from the rescued animal and it was provided with a GPS collar..
The adventurous day of the young wolf ended at about 17.30 with its return back to its home forest.  He was still somewhat dizzy after the anaesthesia for the GPS collar installation but very cooperative. He would have the best chance to recover in a familiar environment. Hopefully the wolf hunting period that ends on February 28th has left some of his family members alive. But it must be admitted that for the wolves in Pärnumaa the present hunting period has been  extremely tough. In the coming hunting periods the yellow GPS collar might save the wolf that has endeared itself to many people.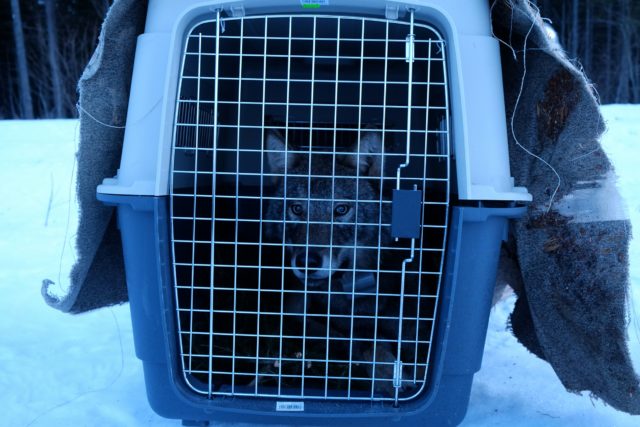 Heart-felt thanks to the kind-hearted young men, to the Terveks Veterinary Service, the Estonian Environment Agency and the Estonian Association for Protection of Animals for saving the national animal!  
Link to the Postimees newspaper report: Ühe õnneliku pääsemise lugu
Laura Kiiroja