Autorid
Video recorded by  Urmas Lett, www.eenet.ee
English translation Liis
Estonian text posted 22.03.2019
Body
Eagle owl       Kassikakk        Bubo bubo
Looduskalender's watchers at once recognize the location of the web camera  at the nest of .the white-tailed eagle pair. In winter members of the Kotkaklubi repaired and secured the nest bottom that fell apart during the previous season but this year the white-tailed eagles nest in their "second nest" and so this year there will be no transmission from the white-tail eagle camera. Man proposes, nature disposes.
Already for a couple of months eagle owl calls have been heard near the eagle nest and the visit of the eagle owl suggests that there is  a breeding pair nearby; these birds nest early.
The eagle owls, our largest owls, are resident or non-migratory birds; they are roughly the size of a large goose: the weight of the male is around a couple of kilos and that of the female around three kilos. The wingspan is more than a metre and a half, but even for the largest specimens it does not reach two meters. The plumage of the large and powerful birds of prey is ochre-coloured.
In the video we see the large head of the active eagle owl, the feather tufts like "cat's ears" and the orange eyes.
The eagle owls have chosen a typical nesting place in a bright stand of pines near bogs, where they usually however nest on the ground. Less often they choose a safer place (many mammals that are nest plunderers move on the ground) which is a nest built by some large bird of prey but abandoned (in such a nest the Latvian eagle owl pair in the image below nested).
Screencap from webcam caught by  IceAge, LK forum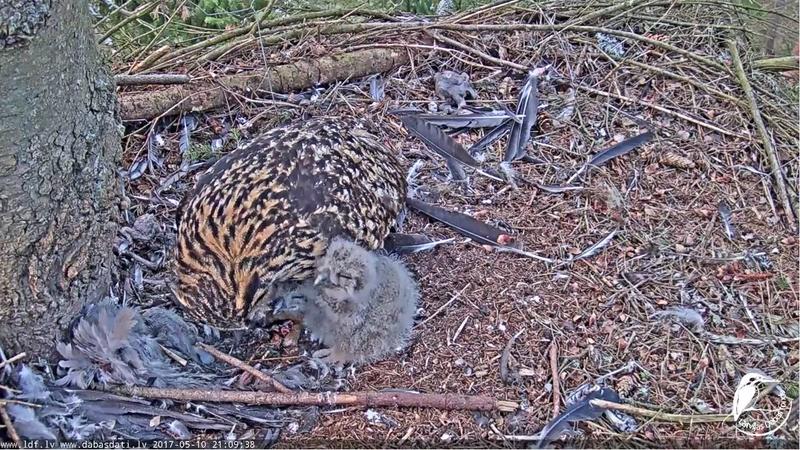 A memory from a couple of years ago from the nesting of the Latvian eagle owl pair
The number of our eagle owls has fallen significantly. The breeding areas are mainly in the islands and western Estonia. In the south the bird has become quite rare; in total this year there may be slightly more than fifty breeding pairs.