Autorid
Estonian Fund for Nature announces
Photo  Arne Ader
Translation Google translate (edited)
Estonian text posted 05.04.2019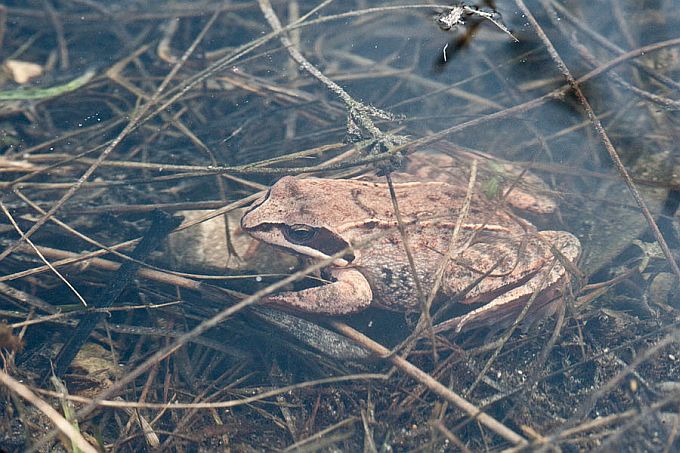 Common frog Rana temporaria  ( www.loodusemees.ee )
Body
The massive spring migration of frogs is gaining momentum again due to warm spring weather. In this context, the Estonian Fund for Nature (ELF) invites volunteers to assist the frogs  and asks drivers in case of darkness to be very attentive both to amphibians and the volunteers assisting them. Wherever possible, on warm and rainy April evenings driving in places where frogs cross the roads massively should be avoided.
"Amphibians are killed in large numbers during migration in areas where roads with dense traffic lead through wetlands," said Kristiina Kübarsepp, leader of the Campaign Frogs off-Road. "If there are flowing waters,  puddles or flooded areas along the highway, there will probably also be amphibian migrants. The duration of amphibious spring migration depends on the weather, but passes within a week. When warm weather alternates with cold, migration stops and continues again on the weather warming, "added Kübarsepp.
At the moment it is known that volunteers are ready to assist amphibians on the migration routes, in Tartu on Ihaste Road and Salutähe Street, in Tallinn in Astangu Street and near the settlements of Jõhvi, Tapa, Porkuni, Kaunissaare, Jägala-Joa, Raudna, Leie-Oiu and Surju. If anybody wants to help at one of these as working volunteer  or to arrange a frog action  in their home county, please inform Kadri, volunteer coordinator, at kadri.aller@elfond.ee
Amphibians play an important role in nature, they have a great impact on food networks, both on land and in the water. All amphibians in Estonia are under legal protection. There are many dangers: destruction and fragmentation of suitable habitats as a result of intensifying forestry and agriculture, poor quality of water bodies, introduction of fish into small water bodies, deaths on roads, diseases, etc. The lives of frogs are full of dangers: only about 1% of all frog tadpoles manage to live to an age when they produce offspring themselves.
In addition, in the year dedicated to our own language ELF awaits all poetry fans to participate in the frog-themed poetry competition "Leaping Frog", where you can submit your poem until April 14th. The best poets will be awarded prizes and the best works will be presented on the international Day of Frogs on April 27 at the Tallinn Zoo. More information on participation can be found on our website: konnad.elfond.ee/uudised/luulevoistlus
The "Frogs off Road" action takes place for the eighth year organised by  the Estonian Fund for Nature. The aim of the initiative is to turn attention to amphibians killed massively on the roads during migration, to raise people's awareness of their important role in nature and to invite volunteers to help amphibians in their home areas. In previous years, nearly 97,000 amphibians have been rescued from car wheels.
More information:
https://www.facebook.com/konnadteel/
Kristiina Kübarsepp, "Konnad teel(t)" Campaign organiser
53308916
Read more about conservation "talgud", voluntary work for wildlife and environment projects  http://www.talgud.ee/en
Translation Google translate