Autorid
Information from  Estonian Ornithological Society
Images from web camera
Estonian text posted 25.07.2019
Image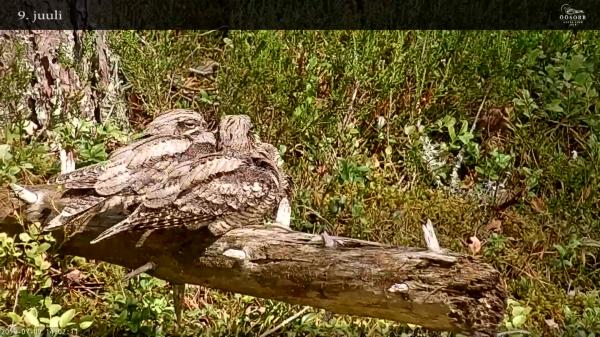 Body
Two chicks were hatched for the Bird of the Year, the nightjar, monitored  by the web camera 

From early July all interested watchers could observe the nest life of the Bird of the year, the nightjar. Now the two chicks that were hatched in mid-June have started their independent lives and the nest camera ends its work.

A remotely controllable camera that was installed at a nest in Hiiumaa allowed us to observe the activities of the nightjars from the incubation and the hatching of the chicks until their  fledging and becoming independent. The chicks that were hatched with a day's interval grew quickly and started to move around the nest after a few days.  The parents fed them mainly in the night with insects kept in the throats of the adults. In daytime the nightjars were comparatively passive.  The chicks could be seen in camera view for the last time on July 9th, after that only calls of the birds have been heard.

"It is extraordinary that we could observe the bird of the year in the web camera. The nightjar does not build a nest but lays its eggs directly on the ground and so  its nests are rarely found. Moreover it is active at night which made direct transmission from the camera more complicated," Triin Leetmaa, member of the Bird of the Year team, explained. "Observing the nesting that ended with the fledging of two chicks was an exciting experience. In a month and a half we found new knowledge about the life and behaviour of nightjars and  we also found confirmation for what we had prevoously heard and read," Triin Leetmaa added.
The video diary can be seen and a summary about events in the nightjar nest read at : https://eoy.ee/oosorr/kaamera

The nightjar camera was installed in cooperation between the Eagle Club (Kotkaklubi) and the Estonian Ornithological Society . The camera was set up by Renno Nellis and Urmas Sellis from the Eagle Club and Omar Neiland from the Beta Group OÜ. EENet supported with server space and Looduskalender hosted the forum.
Additional information:
Triin Leetmaa, member of the Bird of the Year Team
526 3676
leetmaa.t@gmail.com
www.eoy.ee/oosorr