Autorid
Text and images Vicky Korju
Estonian text posted 31.07.2019
Image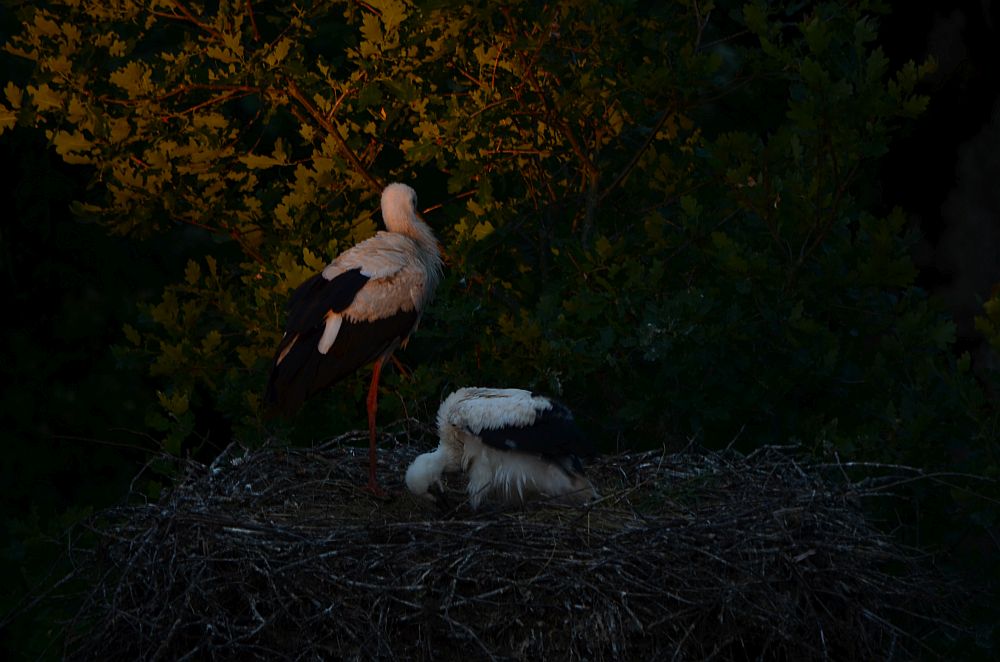 Body
Adult bird and young stork  in evening light
White stork       Valge-toonekurg      Ciconia ciconia
I read in Looduskalender that you are invited to send your stories from nature around your home.
I moved to live in  Kärpla village, in a farmhouse that had been standing empty for more than six years. A couple of weeks later a white stork moved into the farm yard. While the house stood empty the stork nest was also empty for all the years. My question is: why do the white storks need someone to live in the house or near the nest?
I have been watching and recording the activities of the storks the whole summer. Of the two stork chicks one remains; it made its first flight on July 25th. The other chick was taken from the nest by a goshawk in the beginning of June.
I have learnt many  interesting things and I am truly happy to have been able to observe the doings of both wild animals and birds. After all, forest life takes place practically on my doorstep. 
The answer to the question why then do white storks almost without exception nest close to humans?
Mostly simply because close to people they find suitable nesting places: roofs of buildings and their chimneys, large trees in the yards and all kinds of posts and poles where sometimes also nest bases are set out.  The closeness of humans also offers the birds some security. against predators as well as birds of prey.