Autorid
Estonian Fund for Nature  informs www.elfond.ee
Photo Arne Ader
Translation Liis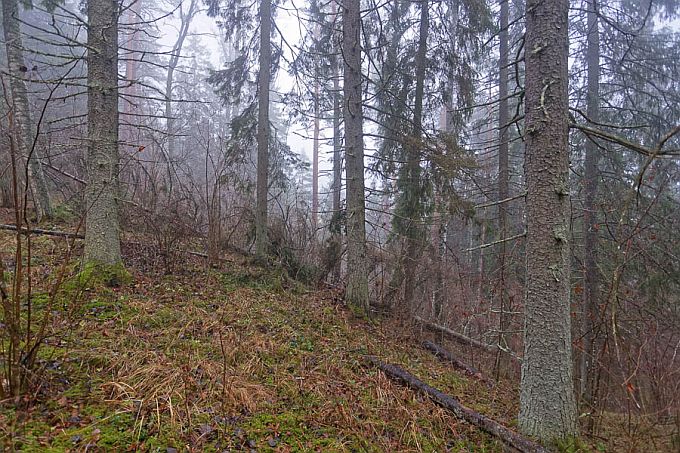 Spruce forest,  Elva River ancient  valley
Estonian article published 09.12.2016
Body
The environmental organisations and the researchers from the University of Tartu and the Estonian University of Life Sciences who met in Tartu on December 8 considered  the current status of forest management and tried to find solutions that would improve the protection of Estonian forests. A joint statement underlined that Estonia must not pursue a forest policy that uses the wood resources at the expense of the future, is  hostile to the climate and not transparent to the public. A proposal will be made to the Ministry of the Environment to take in account also the ecological and social values of forests besides the economic interests, and to involve the respective interest groups in this on an equal  footing in creating a policy.
The debate on forest management that has come up during recent weeks is gaining momentum. Tens of thousands of people have been activated in social media. In the words of Tarmo Turi, the chairman of the board of the Estonian Fund for Nature, the opinions of hundreds of people that have accumulated on the ELF's Facebook page alone shows that the present forest policy makes people seriously worried. "The incomprehension and worries exist among conservationists and forest owners as well as lifelong forest dwellers ," Tarmo Tüür explained. "These are clear signs that the forest policy options have not been discussed with the various parties nor have they been explained to the Estonian people. The confusion is increased by the common practice to use different special terms for particular areas as well as statistical calculation methods at different occasions, selecting evidence for an explanation  that shows the decision in the most favourable light."
The forest policy standpoints of the environmental communities can be found in the campaign leaflet LINK
Nature friend, if you are worried about the rapid decrease of natural forests then give notice of this by turning publicly to the associations: LINK
In a week the environmental associations will carry your opinion to the government officials and the elected representatives of the people in the Parliament.
At  the meeting on December 16 with the Ministry of the Environment the associations look for a discussion of the points of view on policy options..
More information :
Tarmo Tüür
Chairman, Estonian Fund for Nature
Tel. 53 411 020
tarmo@elfond.ee