Autorid
Text and webcam records Tiit Hunt, www.rmk.ee
English translation Liis
Estonian text posted 13.02.2019
Body
Matsalu Bay has frozen to a large open field and the paths of the jackals now in winter seem to run in wider sweeps, the sea is no longer an obstacle that keeps the animals firmly on the shore areas. The tracks of two jackals have been observed  running across the bay.
While in autumn the jackals came into camera view nearly every day then now in midwinter conditions there have been days in between appearances. The howling that has been heard however reveals that all the animals have not gone far off and for long. The calls of the jackals in favourable weather can be heard up to two kilometres away. Of course it is difficult to judge from how far off the camera microphone makes the sounds from the animals audible in the computer. When the jackals are on a longer tour foxes can tear off frozen titbits of food at the camera undisturbed and nibble them. Last night one fox had enough obstinacy and perseverance to keep at it for two hours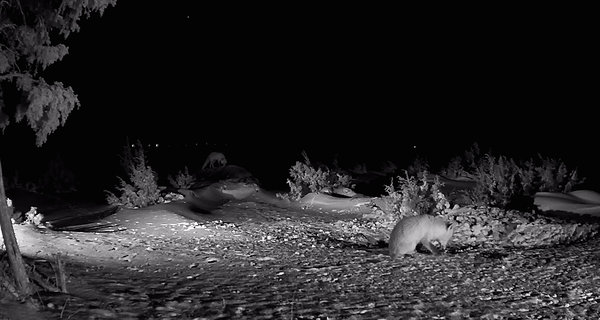 The concentration of predators on the Saastna peninsula might allow the assumption that prey animals have no escape from here and have all been eaten but not so: at the tip of the peninsula a group of partridges are busy and judging from the tracks of brown hares several individuals have had a thorough mating frolicking. Perhaps we will soon see and hear the doings of jackals as well during a  heat period. When it begins at all, here at the most northernmost habitat in the world of jackals?
Considering the name of the jackal in Estonian:
In the second edited Estonian translation of the book "European mammals", "Euroopa imetajad", that was published some ten years before the jackals reached Estonia the name of the animal is given as  (harilik) šaakal, common jackal.
Once when the jackals lived far from us and remained distant even in our minds there was never a feeling that the Estonian name might in some way be strange. Now that these unusual creatures live in our "home yard" the name "harilik", "common" jackal seems general and non-committal and a new name would be needed. In addition this name has since long been used for a subspecies in Europe. The French zoologist Isidore Geoffroy Saint-Hilaire for the first time described the subspecies of the European jackal also known as the Caucasian jackal already in 1833 during the Morea expedition in Crete. The scientific name  (Canis aureus moreoticus)  was given to the European jackal by Saint-Hilaire in 1835. In the description of the subspecies he points out that the European jackal is the largest of the other subspecies. The size of the population is at present estimated at 70 000 specimens.
Jackals already howl in Estonia on the northern shore of lake Võrtsjärv in addition to the sites known earlier and the "harilikud" "common" jackals (Canis aureus) should be referred to as European jackals  (Canis aureus moreoticus). .
.