Autorid
Photos Arne Ader and Wikipedia
English translation Liis
Estonian text posted 10.03.2019
Buzzard ( www.loodusemees.ee)
Body
Buzzard           Hiireviu                 Buteo buteo
Rough-legged buzzard  Karvasjalg-viu or taliviu        Buteo lagopus
Bird migration is slowly gaining speed. As spring approaches weather will certainly improve but next week the migration will probably not yet turn into a massive movement. So this is why we will today talk about the larger migrants or still wintering buzzards that we can encounter.
More specifically it is about buzzards because their migration is already noticeable although already within another week they might be even more noticeable for people travelling by car on the roads (even now there were quite a number of winterers, about five hundred).
This much about the rough-legged buzzards: they do not nest in Estonia (the breeding areas are in the northern part of the Scandinavian peninsula and in Russia). Those that we have met so far in Estonia have rather been wintering but the first migratory individuals are also on the move .
The bulky buzzards with rounded wings that by the way are our most numerous birds of prey (more than six thousand pairs breed and to those are added the passing migrants) sometimes may give an eagle-like impression when they circle around in the sky.
Buzzards become visible now also from their habit of sitting near roads on hay or straw balls or power posts stalking prey in cultural landscapes.
When the breeding is about we will surely come back to the buzzards. Some viewers certainly remember their breeding-time activities as transmitted by the web camera.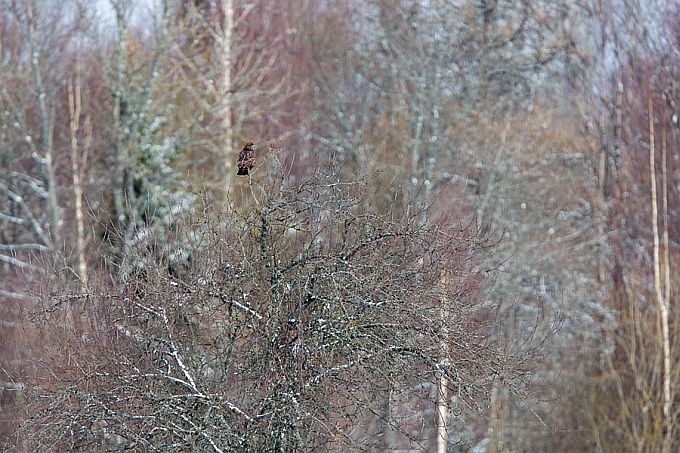 Buzzard ( www.loodusemees.ee)
Observations of buzzards: LINK
Rough-legged buzzard
The passing migrants that do not breed here we meet in spring from the second half of March until mid-May.
The plumage of the rough-legged buzzards is lighter than that of buzzards, in flight view we can see the white tail base and the dark crossbands at the end of the tail.  Distinguishing them from buzzards is made more difficult by the fact that there are buzzards with a lighter plumage and these too may have a light tail base.
Nothing to be done about it, we have to present and make known such similar related species and for your knowledge there are differences in the exterior of a couple of years old birds; even for mature birds there are differences. It may be added that the wingspan of the buzzards' wings is larger. And as encouragement those who have even the smallest interest in nature will quite soon be capable to differentiate between them LINK