Autorid
Video recorded by  Tatyana, LK forum
Estonian text posted 16.07.2019
So quickly the prey can be swallowed
Body
Greater spotted eagle            Suur-konnakotkas          Clanga clanga
Time in summer passes quickly and the offspring of greater spotted eagles Tiiu and Tõnn whom the forum members have named Tuule is already a month and a half old today.
As the custom is among spotted eagles plenty of green sprigs are brought to the nest during the whole breeding period and this year too the nest mound has grown higher quite vigorously. Let us hope that the dried spruce that serves as  nest tree will withstand the weight.
Our rare greater spotted eagles rather nest in natural landscapes compared to their relatives the lesser spotted eagles; thus as far as possible from disturbances. The nesting territories are in marshy forest areas, near flowing waters, to be able to hunt in flood plains and meadows, but the hunting areas can be up to ten kilometres away. Largely three quarters of the catch are all kinds of small rodents, the remaining quarter is birds and only then frogs (despite the Estonian name "frog eagles") but all depends on the numbers of the above-mentioned  over the years.
The larger spotted eagles are not a native species in our nature; the first indication is from little more than a hundred years ago.
The major threat to the greater spotted eagles is hybridization, but we have already discussed that.
Which other factors then affect abundance? Drying of the old breeding areas and wet forests  and of course felling. Overgrowing of the hunting grounds, meadows and humid areas close to the breeding grounds but also cultivation of grasslands.
If all goes well for our young eagle Tuule its first breeding may take place in the fourth year of life..
Screencap from webcam  IceAge, LK forum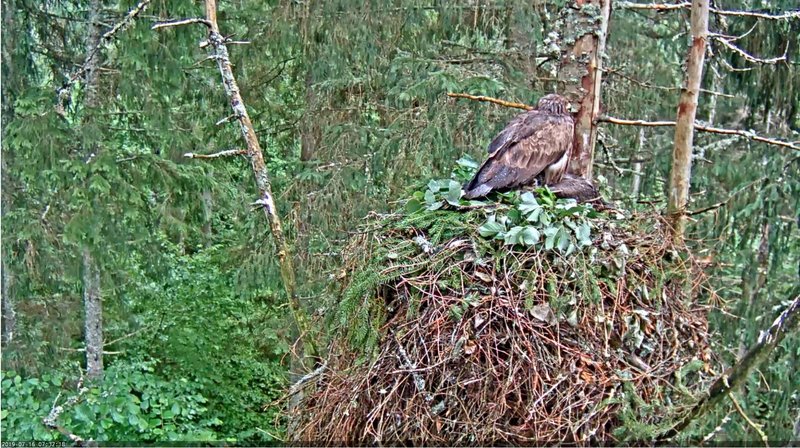 The birthday morning was rainy, so mother had to cover the young eagle