Coal tit can be seen at birdfeeder too
Translation Liis
Looks like a small colourless great tit, with a white cheek patch – but it is the coal tit. In case you notice a white nape patch you can be quite certain about your identification. Greyish back plumage and white underbelly, but a rather dirty-looking exterior. Sized as a blue tit, and the female and male have similar plumages.
Wintering birds are few, maybe some twenty thousand of them. Birds for spruce forests or mixed forests with spruces; in the islands they are busy in pine forests. They are not exclusively insect-eaters, but also look for conifer tree seeds, as we know however spruce cones have a crop failure this year. So coal tits may very well come to the birdfeeder.
Last year, at the end of August and beginning of September, we wrote about the extraordinarily massive passing migration of coal tits – some days a hundred thousand individuals were counted in Puise and Kabli but they also migrated across Kihnu.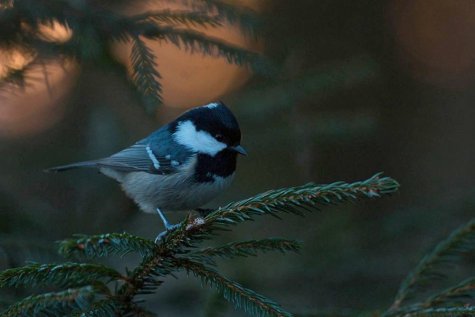 The white nape patch of the coal tit is a certain identification characteristic