Autorid
Written and presented in Vikerradio by Kristel Vilbaste
Photo Arne Ader
English translation Liis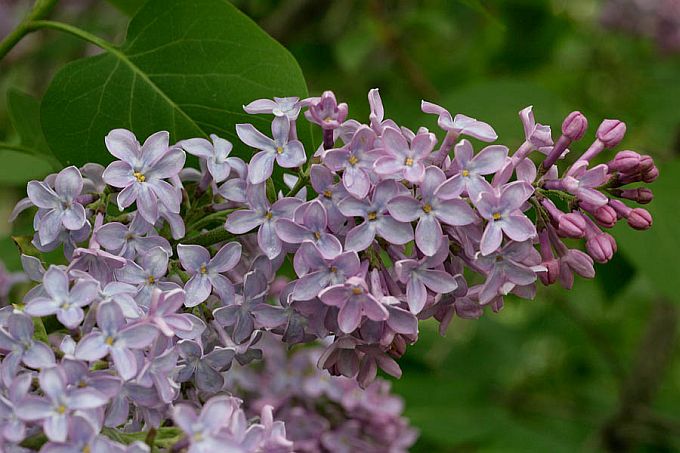 Lilac ( www.loodusemees.ee )
Body
In South Estonia the lilac time has  already begun and I  cannot pass out through my garden gate without looking for a long time  for some lilac luck.
The lilac is a late arrival in Estonia and this custom is borrowed from the westerly folks, and even to them  this oriental shrub actually arrived only  in the middle of the 16th century.
But women and girls have always searched for luck in spring and when there were no lilacs for this,  young people looked for luck in bird-cherries or even cowslips. In them flowers with 6 petals were looked for. I admit that though I have searched for luck in these plants I haven't found it yet. But about the bird-cherry there was a saying around  Räpina that "Bird-cherry is flowering, girls begin to want boys ..."
It is simpler to manage lilac luck. Remember, among the four-pointed flowers you have to look for a flower with five petals. If you eat such a little flower then the happiness will last longer. The more petals the flower has the greater the luck. I have found five-petal, eight-petal and once even a lucky flower with 28 petals in my life. Swallowed all of these carefully, and summing it up I can say that I am a happy person.
But somehow particularly among the white lilacs flowers with three petals occur too, sometimes even with two petals. And since that means bad luck you just have to run away from that shrub. Sometimes it does help.
But have you noticed what happens with the lilacs when all the flower beauty has disappeared?
From the lilac flowers tiny, and  then ever bigger, rhomboid-shaped capsules with two seeds inside  begin to develop, The seeds are beloved by bullfinches in winter to nibble on. The lilac seed-eating bullfinches are familiar on our Christmas cards.
A childhood game of mine is associated with lilacs too. The egg-shaped leathery leaves with a pointed tip were rolled up and the roll then perforated, by biting with one's  incisors. Looking at the punched leaf against light you can again predict what the future will bring to you. Always luck !