Lesser Spotted Eagle Cameras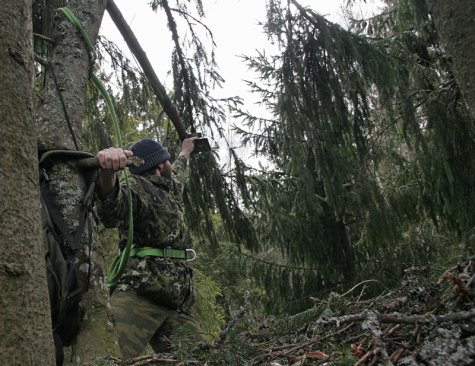 Estonia's lesser spotted eagle camera installation – approximately 2.2 meters from the nest.
Photos: Tarmo Evestus, Urmas Sellis

This year it's possible to follow two lesser spotted eagle cameras—one in Jõgeva County, Estonia, and the other in the Madona region of Latvia near the Teici Nature Reserve. Technically speaking, the Latvian spotted eagle camera works similarly to our own. The project is led by the Latvian spotted eagle specialist, Ugis Bergmanis.
On the Latvian spotted eagle camera page,
it's possible to get additional information on their system and last years results. The main goal of the Latvian camera is to research the spotted eagle's diet.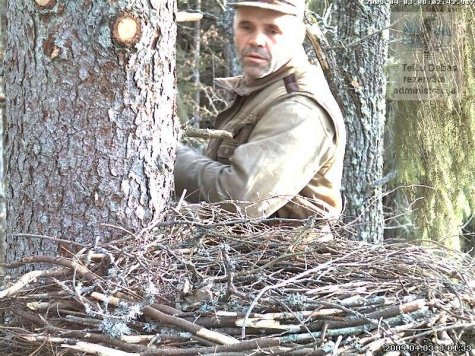 Latvian spotted eagles specialist Ugis Bergmanis built an artificial nest near of destroyed in storm a natural one. Camera is situated at 3.5 meters of nest. Photo: Mobotix

The Eagle Club
, with help from many others, installed the Mobotix web camera at a lesser spotted eagle's nest in Jõgeva County on the 11th of April. The same nest was followed last year, but the eagles didn't find it right for laying eggs and so the eagles skipped the year. Through the Mikrotik antennas, the signal reaches a tower eight kilometers away, and from there it travels by
Televõrgu's
fiber-optic cable. Televõrgu arranges the signal transfer to the
EENet server,
where the picture is decoded and distributed to enthusiasts. The part of the system located in the forest gets its power from solar panels.
NB! To watch the video full-screen, double click on the video window in Media Player. If you're unable to get a direct stream, you can also try thea
webplayer
(at right), with which you can follow the Estonian camera picture in your browser.
Estonia's spotted eagle camera images are brought to your computer by:
...and many other enthusiasts.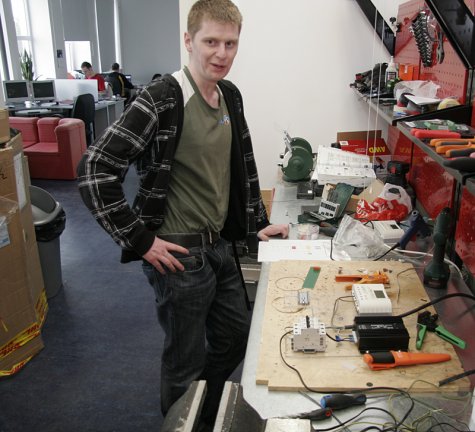 Tallinn Technical University's solar panel laboratory workshop. Ergis Mõtus assembles the power system.
Solar panel testing room. Ergis programs the spotted-eagle camera power system.