Winter White-Tailed Eagles camera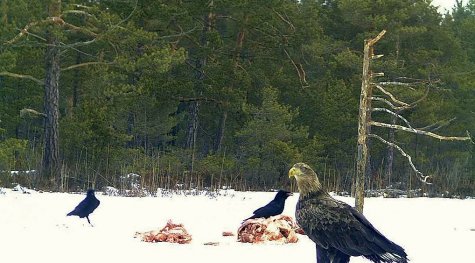 We start the transmission using a Mobotix web camera. With luck, we can exchange it before New Year for a new mobile camera that will make it possible to follow the action even better. A great number of splendid people contribute to the enterprise.
Loodusemees.ee
helps with illustrations.
Using the WTE web player you can watch the Winter WTE camera without quitting your browser:
The webplayer can be used with Windows, Linux and Mac OS. It needs the Silverlight browser add-on; Silverlight can be downloaded
from HERE
, in case you don't already have it. If watching the camera still doesn't work we recommend using the
VLC Player
.
See what goes on!
The camera was set up on the first weekend of December, but the autumn storms had damaged the transmission equipment and we only managed to get it in working order 10 days later. The camera is placed quite near to the ground; the initial pictures will be general overviews of the scene.
Tiit Randla caters for the eagles' dinner table.
Your suggestions and ideas can be posted on the
forum
or sent to Looduskalender's
contact address
. Looking forward to your ideas, and thank you in advance!
Our partners in the enterprise are:
The feeding place is in the Silma wetland area in western Estonia. The NGO Silma Wetland is supported by KIK, the Estonian Environmental investment Centre.
Translation: Liis