Lesser Spotted Eagle on Black Stork's Nest Camera
Translation: Liis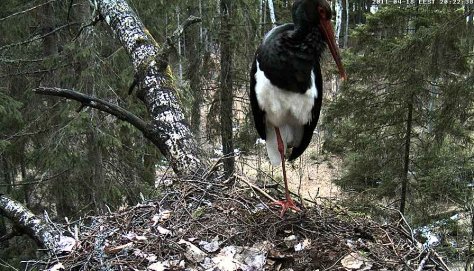 Image from the Mobotix camera.
Urmas and Joosep from the
Kotkaklubi (Eagle Club)
installed the web camera at the black stork nest on April 5. This nest has been virtually watchable since 2007. In 2007 Tooni and Donna nested here, in 2008 Padis and Donna; in 2009 and 2010 only Padis was at the nest and in the second half of the summer of 2010 lesser spotted eagles instead took over the nest. In 2011 Padis was the first to reach the nest, on April 18 ...
By way of Mikrotik aerials the signal from the web camera goes to the Eesti Energia (Estonian Power) mast 13 kilometres away and from there to the fibre-optic cable of Televõrgud. Televõrgud transmit the camera image to the EENeti server, where the video is decoded and the stream split. The forest-based part of the system is powered by solar panels.
NB! To watch the video in full screen mode double click on the video window that opens in Media Player. If watching the mms stream does not succeed the web player below may be worth trying; it allows you to watch the camera directly in your web browser (the Silverlight add-on is needed).
Because of the long distance between the aerials in the radio link part temporary disturbances may occur.
Participating in the project are:
... and all is observed and documented by the Looduskalender forum.