Body
You don't have Flash. Klick links for mobile devices below.
Direct stream | News | Forum
Links for mobile devices and VLC:
Windows 10 Mobile, iPhone, iPad; Android, VLC
The Tawny owl was elected by the  Estonian Ornithological Society as the Bird of the Year in 2009. From that year on we have followed the breeding of a tawny owl pair – Klaus and Klaara - in Läänemaa. We are not certain, however, that we have to do with the same Klaus and Klaara, since from exterior characteristics it is not possible distinguish between birds from different years. The average lifetime of a tawny owl is 5 years, but the oldest tawny owl in nature lived to an age of 18 years.
In earlier years the webcam tawny owls have started their breeding – laid the first egg – on March 1st (2009) at the earliest and on April 6th (2010) at the latest. Last year, 2015, they laid the first egg on March 4th. We hope that our tawny owls will breed this year too!
This year the tawny owls visited the nest trunk often already in February and the female has spent the "night" (daytime) in the nest hollow from March 6th. In earlier years the female has been in the nest overnight about a week before the start of egg-laying so there is hope.
Klaara and Klaus nest in a tree block made from the same tree with a natural hollow where they nested before the tree was broken by a storm. Workers from the Estonian Environmental Board and RMK crafted a  new nest block for Klaus and Klaara which was installed near the old nest tree. Under the roof of the nest block is a small  Mobotix infrared camera and infra-red light which allows us to see a black and white image even in the dark hours.
From Läänemaa the camera stream reaches Tartu and the  EENet server by way of  the Televõrk connection. More information on what goes on in the nest is in the Looduskalender  News and in the Forum, where viewers from all over the world post their observations.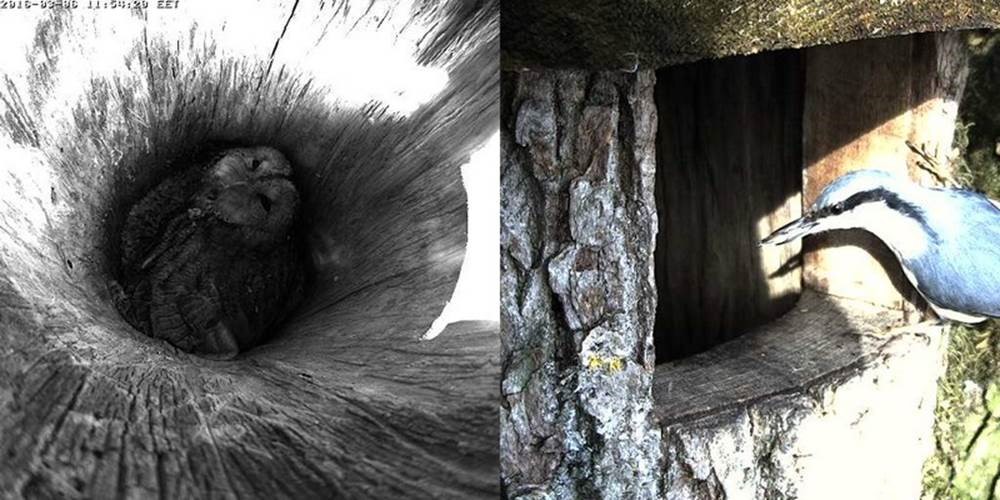 Klaara and curious stranger. Image captured from webcam by Fleur, LK forum
The enterprise is supported by: