Body
A difficult question remains unsolved for our foresters: what to do with the beavers? Is this diligent tree feller and expander of rivers the scourge of forest owners? Or is it a rarity in nature, a vitally important and expensive symbol of our northern forests? In our present Estonian nature evidently both.
Closest to the truth is that we have not learnt to cope with the beavers that have returned to our forests. But we must learn. We must do this, Government officials as well as each of us on our own.
It is clear that if an owner has four hectares of land and beavers threaten to gobble up one third and to flood the remaining two thirds then the owner has to be an extreme onservation and beaver fanatic if he does nothing to protect his belongings. He has to be understood.
On the other hand if beaver-hostile forest owners make ever louder noises, demanding that the beave, in their words the all-time greatest scourge of Estonian forests, must be immediately and totally destroyed then ... something is very wrong.
If the beaver problem emerges for us, we must observe, weigh and consider. Particularly and in the first place whether and to what extent the beaver and its doings can be accepted in a given environment and conditions.
Looking at the flooding of large forests it might be argued whether the beaver with its unerring "engineering instinct" does not show us  the mistakes in the existing drainage system? Those  systems were often built during the Soviet planning economy era, aiming to achieve a maximum of cubic metres taken out and a large number of hectares of drained forest. In practice drainage was often useless for the forest or even harmful. Doesn't the beaver often brutally and directly point out our old mistakes and follies?
So the beaver is back, he has to stay and will stay. Instead we ourselves should make rearrangements, for instance rebuild many drainage networks. The waters, life in the water and the groundwater resources would only benefit from this. Let us try to live with the beaver, this tireless workman and splendid engineer. And especially when he has destroyed some dozen trees between two hillocks and changed a sparse peat bog into a swamp forest.
If however the damage is very significant it is certainly worthwhile to ask for the opinion of specialists. In places help and expert advice are really needed.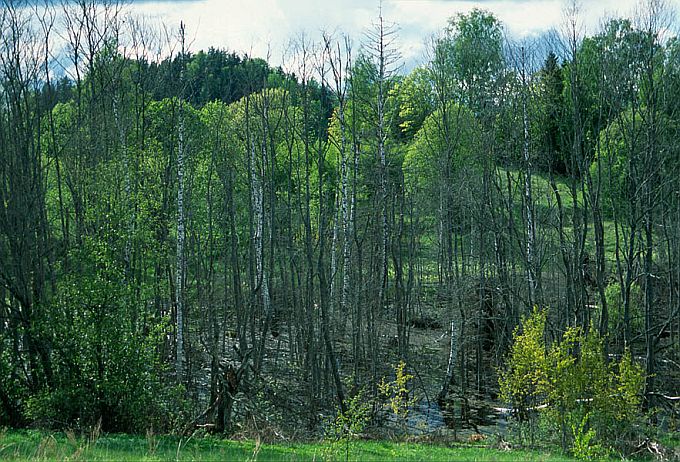 Forest flooded by beavers.  Kaika hillocks,  Karula