Body
Red squirrel      Harilik orav     Sciurus vulgaris
We have already noticed the increased mobility or mating period of the so-called urban or city squirrels in parks, cemeteries and garden cities despite the cold winter weather. In cities there is a couple more degrees of warmth in the air than in the forest. To that comes the light pollution and somewhat different feeding habits in the urban conditions. The mating games of our forest inhabitants should also have started.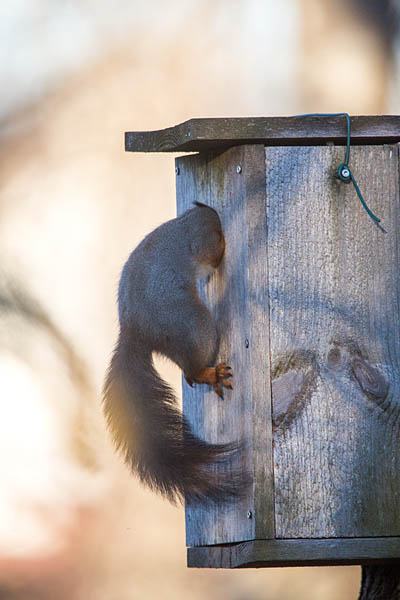 Squirrel
Squirrels are active in daytime, they are diurnal animals. When dusk arrives they creep into a nest, either in the hollow of a broadleaf tree in a park, in a nest built by themselves (we will write more about these soon), in a bird nestbox or for instance a nest in the insulation material squeezed into the structure of city buildings.
The ordinary daytime routine of squirrels is divided into a couple of hours of movement in the morning and in the afternoon
During the mating games the slightly larger female (in that case we have to do with an older female) may be accompanied by a couple of males, sometimes even three. All try to catch her attention – such rivalry sometimes leads to quite loud-voiced settling of accounts. But the final  choice of partner is made by the "fair sex". Squirrels are of course less cautious at this time but that is good for the watchers.
The female is in heat for only one day and studies by researchers suggest that the male feels  the smell of a female in heat one and a half kilometres away.
When the mating period has passed the males head back to their territories, they have fulfilled their duties. In a month and a half or a little earlier the offspring of the squirrels will see the light of the day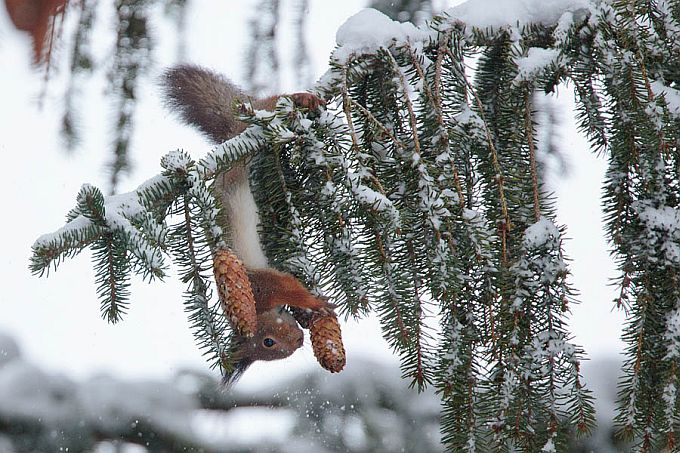 Squirrel gripping  spruce cone