Body
Seekordses maailma ohustatud liikidest rääkivas uudises on juttu valgetiib-pirkidest. Nende väikeste lindude kaitse eelduseks on teadmised, mida saab senisest tõhusamalt koguda videokaamera abil.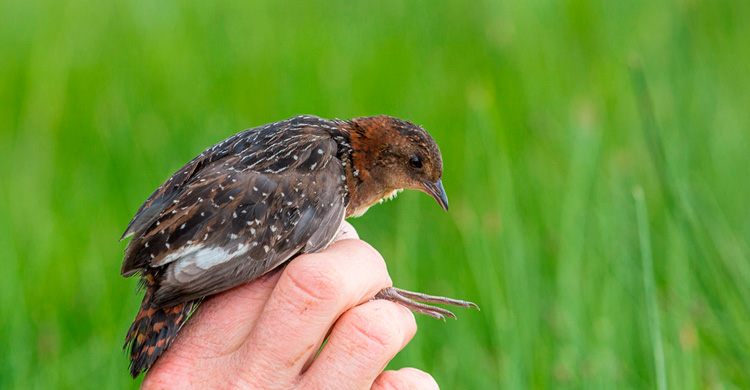 Valgetiib-pirk / foto: Sergey Dereliev (https://alchetron.com/White-winged-flufftail)
Valgetiib-pirk (Sarothrura ayresi) on väike lind ruiklaste sugukonnast, millesse Eesti liikidest kuulub näiteks rukkirääk. Viimase hinnangu järgi on looduses kokku vaid alla 250 täiskasvanud valgetiib-pirgi ning arvukus langeb. Juulis-augustis võib teda kohata Etioopias ning novembrist märtsini Lõuna-Aafrikas.
Kui seni arvati, et valgetiib-pirgid sigivad vaid Etioopias, leidsid teadlased Lõuna-Aafrika toitumisaladele paigutatud rajakaamerate fotode hulgast üllatuseks ka ülesvõtteid kosimiskäitumisest. Avastusest põnevil, panid nad üles veel kaameraid ja nägid peagi ka kindlat tõestust pesitsemisest – nelja nädala vanust noorlindu. Kokku õnnestus jäädvustada kolme pesakonda ja kaht paaritumist. Edaspidi plaanitakse sarnaste kaamerasüsteemidega jälgida teisigi Lõuna-Aafrika märgalasid, lootes leida rohkem pesitsevaid valgetiib-pirke.
Uue pesitsusala leidmine on oluline edusamm teadmistes, kuid liigi arvukus on siiski äärmiselt madal. Märgalasid, kust valgetiib-pirke leida võib, ohustavad liiga suur karjatamiskoormus, põllumaaks muutmine, põlengud ja saaste.
Loe täpsemalt:
BirdLife International 17.02.2018 Rewrite the bird books: new breeding site found for one of world's rarest birds.
Valgetiib-pirgi infoleht linnukaitseühenduse BirdLife International kodulehel.
Riin Viigipuu
Tartu ülikooli ökoloogia ja maateaduste instituudi zooloogia osakonna magistrant
info/at/linnuvaatleja.ee