Autorid
Video recorded by  Fleur, LK forum
Translation  Liis
Estonian text posted 09.04.2018
Klaara shows an interest in Klaus's doings around the nest trunk by hooting
Image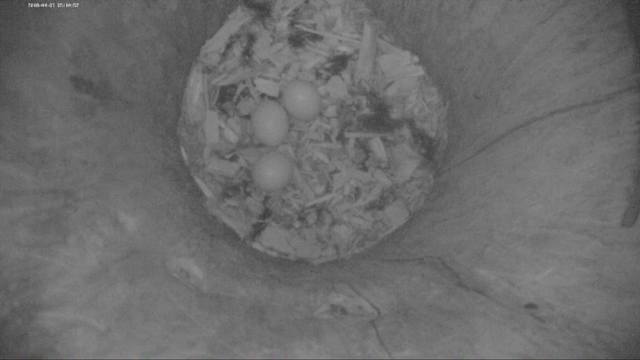 Body
Tawny owl       Kodukakk         Strix aluco
We will look a  little while back in time on what has happened and is happening in the  tawny owl  nest hollow, and briefly forward.
Klaara laid the first egg into the nest hollow in the trunk on March 30th, the next ones on  April 2nd and 5th: so it works for tawny owls, with intervals of a couple of days. It seems that the egg clutch is complete.
Spring is late as we know, the nights cold, Klaara can leave the eggs only for a brief time; so the beginning of April can be counted as the beginning of incubation and the average duration is four weeks or a few days longer which can depend on the weather.
At the incubation time the adults keep in touch by hooting in the evening dusk – it is good for Klaara to know if male Klaus already moves near the nest trunk and if there is hope of something to eat as well. Klaara leaves the nest at about nine o'clock, then she can stretch her limbs that have got stiff from the incubation.
Male Klaus brings to Klaara in the nest small rodents (common voles, bank voles, water voles), as well as some passerines, in some years amphibians, sometimes also earthworms – well, whatever  the   neighbourhood offers.
Sometimes we are asked where the male spends his days? For tawny owls very dense spruces for instance are good  for daytime shelter, likewise seldom used outbuildings; actually the list can be made very long.
In the nest surroundings Klaus naps in an old dense spruce hedge where he leans against the spruce trunk to keep his balance …