Autorid
The author, Kristel Vilbaste, also presents texts in Vikerraadio
Photo: Mairit Kallaste
Translation into English by Maret
Estonian text posted 31.07.2018
Image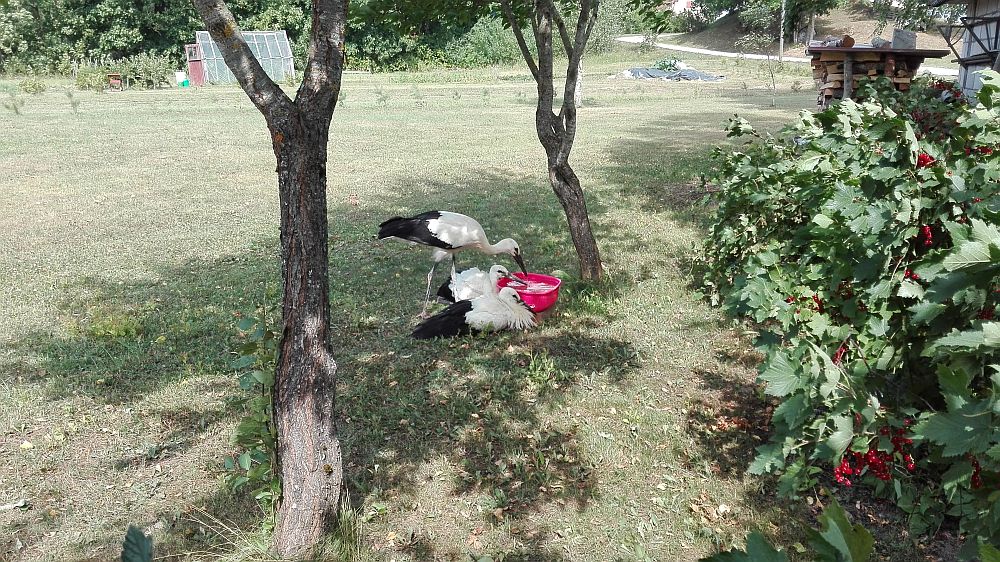 Body
A drinking vessel for white storks under their nest. (Yesterday's story in LK -  LINK)
The Weather God has been so stingy with rain, that even all the still-water bodies are starting to dry up.
My brother Enn Vilbaste says, that he cannot remember the water level in the Nigula bog lake ever having been so low  -  even stones that were never seen before are now all above the water. The ponds by the bog are totally dry. The beavers will have a critical time in their lives.
But all the plants and animals are now thirsty. At springs and rivers, you can In the evenings now see animals, that so far have kept well out of sight.
Beekeepers are setting out drinking vessels for their bees and people, who care about nature, put out water bowls for birds. Right now these are as desirable as the feeding stations are in wintertime. A bigger plate or bowl, not too deep, is best, as the birds could perch on its edge.
Kaja Kübar tells me, that such a vessel is not only for drinking, but late in the afternoon, after a day of scorching heat, that's where the birds can also have a refreshing bath. She says, that not only do you see there white wagtails and sparrows  -  man's most common companions
-  but also Eurasian nuthatches and European goldfinches. Even our national bird, the barn swallow, doesn't say "no" to such an evening bath. She can be seen doing this even in puddles, so a bath in a drinking vessel is pure pleasure.
The first generation of the barn swallows are already in flight, the second one still tweeting in their nests.
But even the hedgehogs could do with a drinking vessel in some corner of the garden.
Just remember to keep refilling those vessels until rains start, just as you do with the birds' feeding stations in wintertime. Our little feathered friends are depending on us and if we fail them, it may take the thirsty birds too long to find a new source.