Autorid
Summary by Tiit Hunt, www.rmk.ee
English translation Liis
Estonian text posted 29.11.2018
Image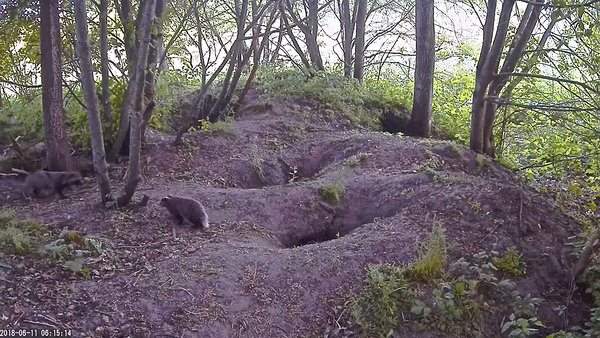 Body
The badger camera ends a season rich in events, "custom made" compared to earlier seasons in the sense that the animals pleased the watchers with being often present in camera view and not leaving the home hillock in summer for any longer periods.
A tiny whimpering cub could be seen already on the third day on-line between the jaws of the badger mother coming out of the burrow. The cub was brought to the outskirt of the sett to a freshly arranged nest. A second cub was transported in the same way a couple of hours later.
At least seven raccoon dog pups saw daylight in the badger sett with nineteen burrow openings The bustling of the "city folks" lasted day and night.
Wrestlings and chasing between the adults of badgers and raccoon dogs occurred quite often. Truly, the relations between the two species were not warm. A raccoon once attacked the badger cub furiously – luckily the badger parent who happened to be nearby saved the cub from the worst fate.  
By midsummer the raccoon family had disappeared without traces and after that only solitary individuals have been seen straying around the sett a few times. The three members of the badger family could now play without being disturbed, scratch and care for each other's furs and teach the cubs the necessary facts for life. In the beginning of summer the male badger too  disappeared somewhere and was not seen later.
One evening five badgers could suddenly be seen in camera view. The mysterious visitors were an adult with its offspring that to judge from the friendly behaviour presumably belonged to the same badger clan.
A couple of times Uno brought apples and plums for the badgers – the badgers quickly devoured these. Particularly the plums were popular – one badger cub lay down on the plum heap to keep more for his own eating. A couple of fistfuls of carrots were eaten by the deer. 
The most frequent visitors were the deer:  a stag with eight-pronged antlers, a female with a calf and a stick antler bearer visible in the video. 
The camera setup will go from the badgers to the familiar area at the deer ground.