Autorid
Images from webcam screen IceAge, LK forum
English translation Liis
Estonian text posted 01.12.2018
Image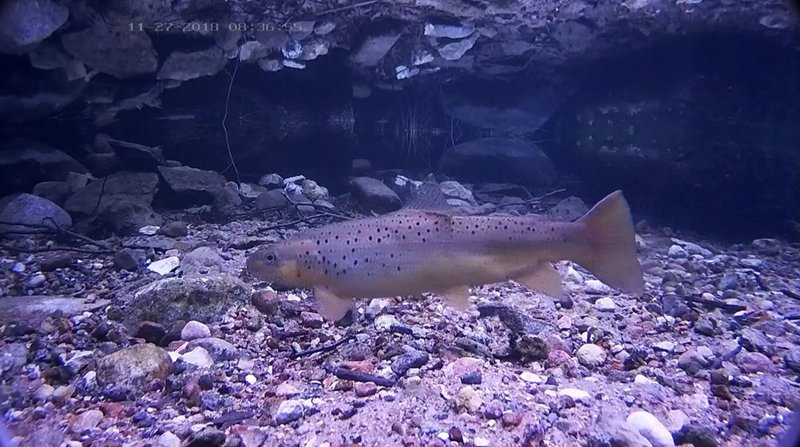 Body
Trout or brown trout   Jõeforell or hõrnas    Salmo trutta morpha fario
For the third night an ice cover had formed on the spawning place. Until now it melted on the following days – but what about the future? After the dry summer the Lavi spring is poor in water and  feeds the spawning area very modestly. There is almost no water flow so nothing prevents the formation of an ice cover on the spring water.  
But we were to discuss the spawning activities of the trout. For the female fish the spawning is truly a exhausting and heavily energy-consuming process.
The females choose a spawning area and dig a spawning nest. The spawning is moreover done repeatedly by batches.
The first-time breeders with roe are three to four years old, with a length of 25-32 centimetres and their body is only capable of producing a couple of hundred roe grains.
The bigger specimens in the camera view may weigh up to a kilo and a half and the roe grains spawned by them can exceed one and a half thousand. They spawn by portions of a few hundred grains and the diameter of one grain is four to five millimetres.
The young milt-carrying male fish attain sexual maturity one year before the females, when they are only some ten centimetres. It is another matter whether experienced male fish will permit such inexperienced youths to join the feast; even the mature ladies push off the youths circling around them. The roe is generally fertilized by milt from older male fish.
The females cover the spawned roe with gravel. It  is fertilized at the same time by the males. The roe incubates for up to five months. The roe from fish that have spawned earlier is often partly washed out to float in the water flow. It is eaten by the not yet spawning young fish (otherwise the washed-out roe would simply perish; robbing of spawning nests by co-specifics has however not been noted).
The spawned roe must not get buried in stagnant bottom sediments but has to get oxygen from flowing water  - otherwise the roe simply perishes.
The bellies of female fish that have already spawned some roe portions look much smaller (note the fold on the belly). Observant viewers have surely already noted this body change .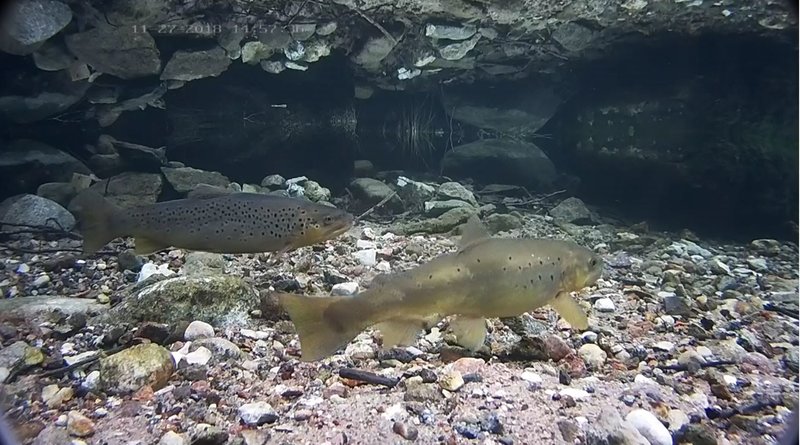 Female and male fish (to left) on the spawning ground