Autorid
Text written and illustrations selected by  Tiit Hunt, www.rmk.ee
Estonian text posted 20.08.2019
Body
The weighty fish contingent has not started their journey yet: they might reach the Keila   River estuary perhaps in a month at the earliest. Sooner or later – depending on weather and the water conditions the very large salmons and sea trout come in camera view and maybe  groups of tens of river lampreys that soon begin to gather in the river to be prepared early for the springtime spawning .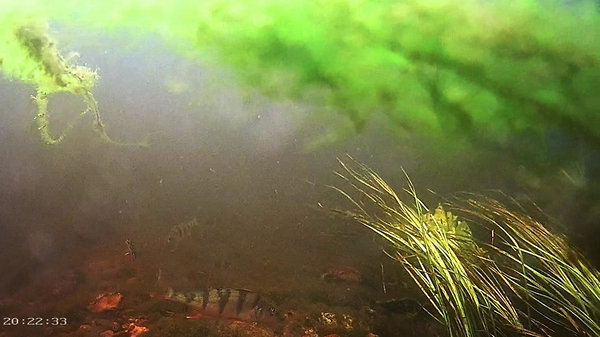 At present it is still a period when mostly smaller creatures come in camera view excepting the impressive Prussian carp  (Carassius gibelio) that swam peacefully past and a 35 cm long trout glimpsed from tine to time and flocks of of breams (Vimba vimba). But surely more large ones have passed here too .
In daytime almost constantly perches (Perca fluviatilis) and  sticklebacks pass the camera and when darkness arrives the bustle becomes livelier. More perches arrive, roaches (Rutilus rutilus) and flocks of bleaks (Alburnus alburnus) join in, and quite often it is possible to see small salmon and sea trout fry hatched in last and the present spring.
.