Autorid
Written and read in Vikerraadio by Kristel Vilbaste
Estonian text posted 24.11.2019
Photo Arne Ader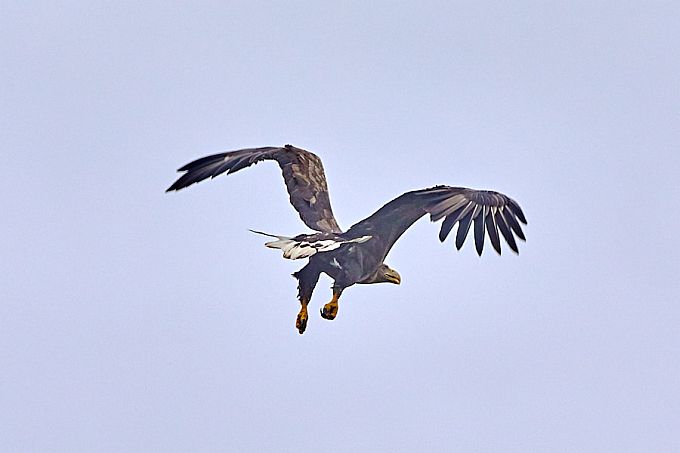 White-tailed eagle   ( www.loodusemees.ee )
Body
Over the past week I have repeatedly met with white-tailed eagles. There is always some large and dark eagle outline soaring in the sky or it flies flop-flop about its business .
Through our social networks I was intrigued by the question of how many people have really noticed the eagles in the sky, and it seems that they now appear everywhere. Only half a century ago meeting an eagle was great luck but now thanks to the fine people of the Eagle Club (Kotkaklubi) the number of our white-tailed eagles has grown to at least five hundred birds. And whether the eagles are curious about the life of humans or these birds soar in the sky so high that they are really visible to all far off – eagles are often encountered
It is particularly common  at the coast in the period when the Finnish white-tailed eagles arrive at the shores of the Baltic, forced by cold and hunger to look for food.
That eagles arrive from Finland has also been told by our ancient folk tales. The Great Northern Eagle actually brought our mighty warrior Kalev here. Even now it might be worthwhile to peek into scruff of an eagle – is our new defender coming?
But eagles may also be seen at quite close quarters.
On the seashore a large brown-feathered hook-bill may be thoughtfully sitting on a rock. It is interesting that precisely from that hooked bill the large bird has got its name,  'kotka' in a Finnish dialect  means a nail with a bent tip. For iron wares, buyers always went to   a Finnish blacksmith, so quite likely the name of the bird was brought back too
In a strange way the eagle symbol joins iron, military power and governing authority. This symbol is even more powerful for us than the large and strong bear .