Autorid
Photos  Peep Männil
Estonian text posted 06.01.2020
Image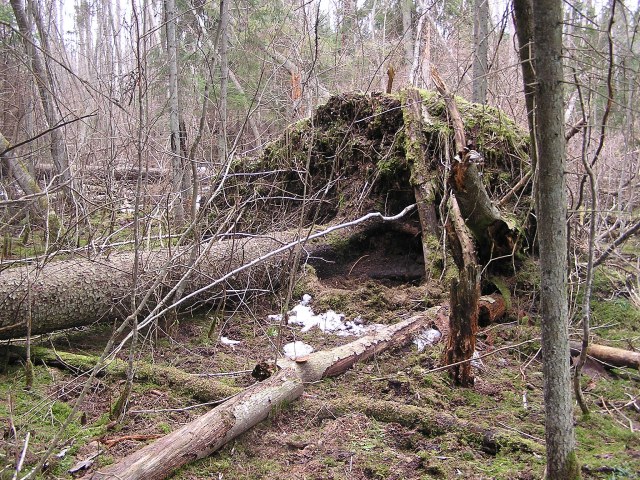 Body
Winter quarters of bear photographed in spring
Brown bear      Pruunkaru  or karu     Ursus arctos
Despite the snowless winter the breeding season for brown bears in Estonian forests started already in December and it can still last  until February. About sixty bears have already or will bear cubs in that period.
Female bears giving birth for the first time usually have one or two cubs, older animals two or three, and very rarely more. The next family addition from the female bear can be expected only after  a couple of years, sometimes even three years.
The birth weight of the newborn bear cubs may reach half a kilo, they are blind. The ear openings are covered with a membrane and the body covered with a sparse fine "baby fur". Immediately after the birth the bear cubs are quite helpless but they develop powerfully thanks to the nourishing and valuable milk of the female bear as the fat content of bear milk is 30%!
How the organism of the mother bear works in winter we will discuss in the next few days.
A couple of weeks old bear cubs begin to hear, their ears open up. Not until after a month. they begin to see. During the first three months of life the milk teeth develop and by that time spring may already be so far advanced that the awakened mother bear judges it right to leave the birth den.
The bear family leaves winter quarters in April, by that time the cubs weigh up to five kilos and must be able to follow the mother bear.