Autorid
Screenshots from webcam UteL, LK forum
English translation Liis
Estonian text posted 15.08.2018
Image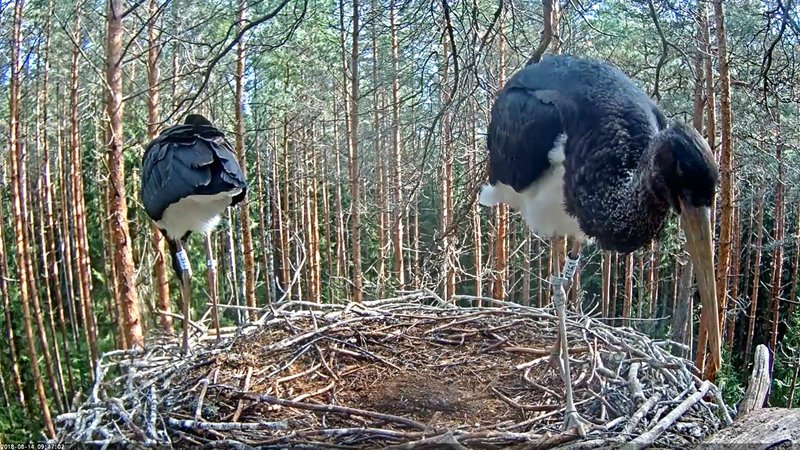 Body
Yesterday morning the storklets were in the nest as usual…
Black stork        Must-toonekurg       Ciconia nigra 
The young storks left on migration as usual a little before they were three months old. They did not go on discovery trips together and they left from the nest at different times and in different directions. And how do we know?
Late in evening and this morning we looked with Urmas Sellis at the migration map where the paths of the storklets are shown by their transmitters. One of the storklets was busy north of the nest,  near the waters that male Karl too used to visit but not together. It stayed for the night about three kilometres away from the nest. The second storklet headed westwards where it also spent the night. It rained in southern Estonia in the morning and black storks do not like moving around in rain. The water level is low everywhere in Estonia and so the young storks will have no problems with catching prey.
It is not impossible that one of the young birds might return to the nest once more and so it did happen at the end of the rain at about 17 o'clock .
Storklet Karula arrived again in the nest
Certainly male Karl will also visit the nest – as if saying goodbye to it and making a summary-of the summer…
Everything is in order with young stork Maru too who departed on migration on August 4th and has already reached the Latvian-Lithuanian border and is busy there near a forest creek.
About female stork Kati we have no information since she has no transmitter.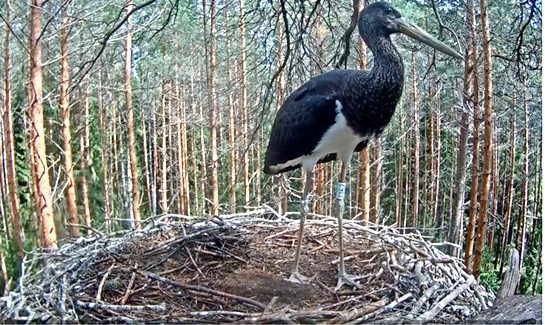 Before one o'clock Karula was still in the nest. So the young storks went on their separate ways …