Autorid
Web camera image  IceAge, LK foorumist
Photo Kaido Haagen, www.kaidohaagen.com
English translation Liis
Image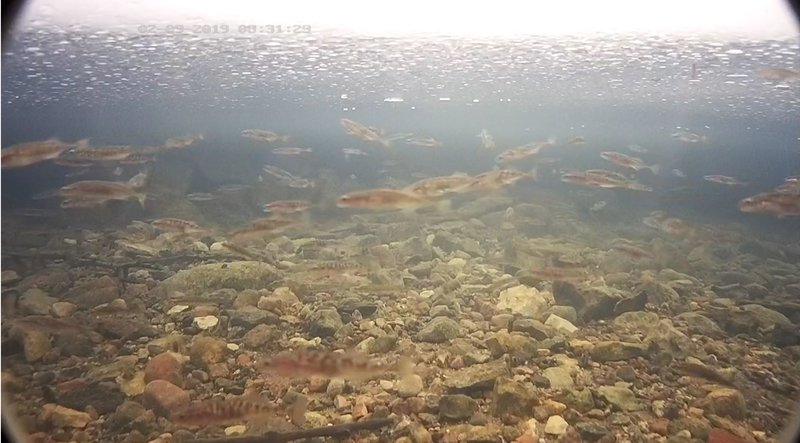 Body
Stickleback shoal at the trout spawning place. Such a great number has not been seen earlier
Ninespine stickleback       Luukarits          Pungitius pungitius
 The sticklebacks visit the spawning area to search for trout roe grains that have been washed out from the spawning nests. The little fish don't manage to plunder the nests themselves. During the hatching of the trout roe, presumably in April, they will be back again hunting for the just hatched trout fry. At other times of the year they search for different bottom animals, eucocepoda and zooplankton as well as chironomid larvae.
Sticklebacks in spring water fed streams are sometimes the only fish species in such places. Detailed investigations of the sticklebacks are not known.
They are known to move along underground water flows and have been discovered in dug-out and drilled wells.
They are the smallest of the native Gasteroiform fishes. At one year of age their length may be about three centimetres, older specimens growing to six – seven centimetres (as far as is known sticklebacks live up to three years).
They have an elongated body, with a noticeably slender tail stem. Preceding the back fin we can count nine spines (but different individuals may have fewer or more of them), and they can be standing straight up or lay against the back. In front of the belly fin there is a single movable spine.    
The back colour of sticklebacks may differ and the bands starting at the back can extend down to the edge of the abdomen. There are no scales on the body of the fish but the tail stem is covered by tiny bone plates.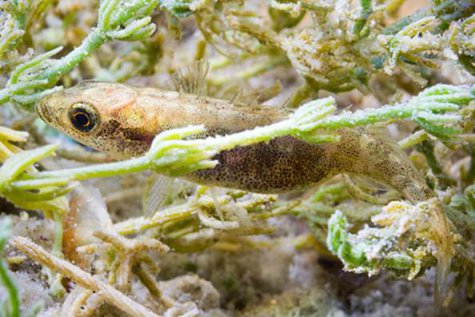 See the stickleback video: