Autorid
Screencap from webcam  Solo, LK forum
Estonian text posted 12.07.2019
Image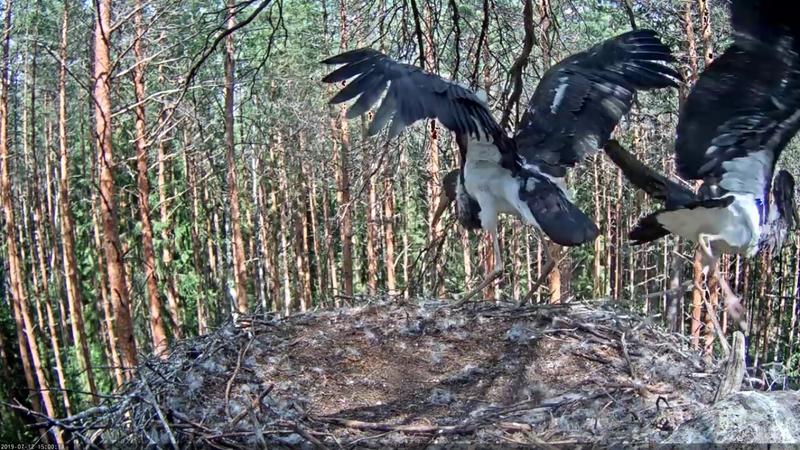 Body
At three o'clock the young storks, observing the doings of the ringers under the trees, decided to leave the nest …
Black stork          Must-toonekurg       Ciconia nigra
The Eagle Club birdmen had planned a serious working day. In addition to ringing, both young storks would get "backpacks" with radio transmitters.
Why transmitters? The young birds will start nesting in two or three years. So far, researchers know little of their activities until then but it would be needed and it is also one possibility to find out the movement patterns, feeding areas etc of the juveniles.
The transmitters will be installed on as fully grown juveniles as possible because the backpack in addition to other aspects has to be designed with "growing allowance" – so the risk had to be taken. The storklets fled from the nest but when they reached the ground they were caught. The whole procedure – measuring, weighing, placing of rings and getting the rucksacks on took a whole of three hours on the ground.
Screencap from webcam  Liz, LK forum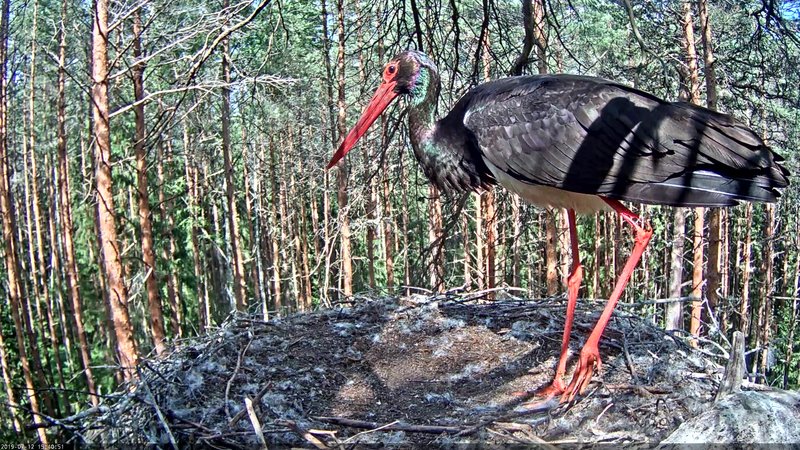 Male KarlI discovers an empty nest at a quarter to four
So the adults got involved in the procedure, whether both of them is not known, After being in a strange environment for so long the storklets were of course stressed. They are already quite big and have experienced various dangers that we also have written about. In five days they will be two months old.
A long video of how the young storks were brought back to the nest, recorded by  Macko, LK forum
The young storks were brought to the nest at half past six
The whole complicated  enterprise finished at seven o'clock in the evening.
We hope that the birds will return to their normal life quickly.
Screencap from webcam  Crissy, LK forum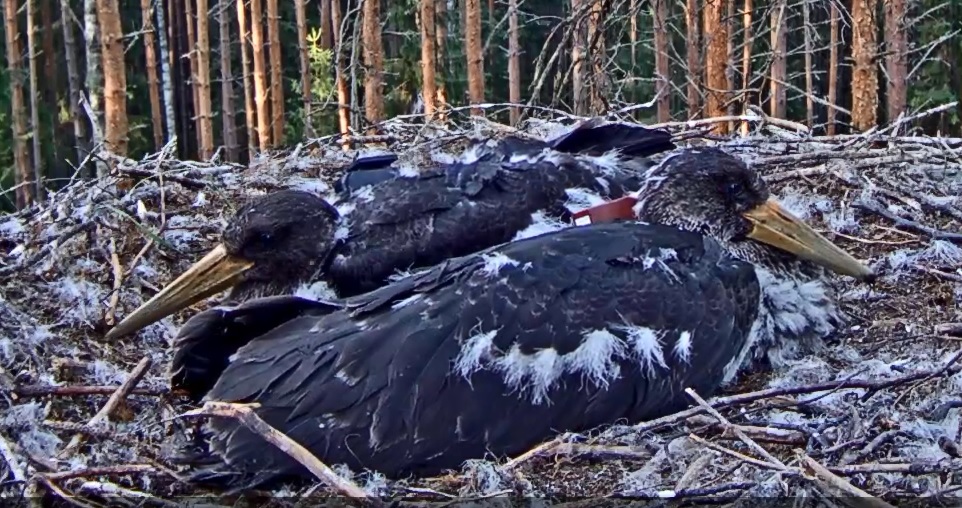 The young storks with transmitters in the nest…