Body
Direct stream | News | Forum
Stream for mobile devices if the above does not work: Windows 10 Mobile, iPhone, iPad, Android. VLC
Older computers: flash player
The deer camera has finished for the season. The deer have left Uno two antlers on the feeding ground as a sign of gratitude for the  food. 
On Tuesday we installed a web camera in Saaremaa in a beaver habitat and hopefully we will be able to follow their doings and see and hear other creatures too, more or less tied to water, be they then frogs, mammals or birds. 
The first night with the beaver camera was promising – before midnight the sound of a beaver chewing at a tree was  audible quite close, also frogs quaking, cranes, mallards and tawny owl. At 00.37 the beaver already moved around in camera view. In the morning and in daytime too fish splashed in the water, backs out of the water. Probably roaches.  
The end of February-early March is the heat period of beavers. 1-4 young are born at the end of May-early June. It is nice to see the offspring scrambling around on the top of the lodge or  tumbling in the water. 
At the moment we don't know much about the inhabitants of this den but hopefully we will learn more about their doings during spring and summer. In this beaver family at this time there should be a pregnant female, a male and the offspring from last year. If none of them has perished then 5-6 beavers should be active nearby.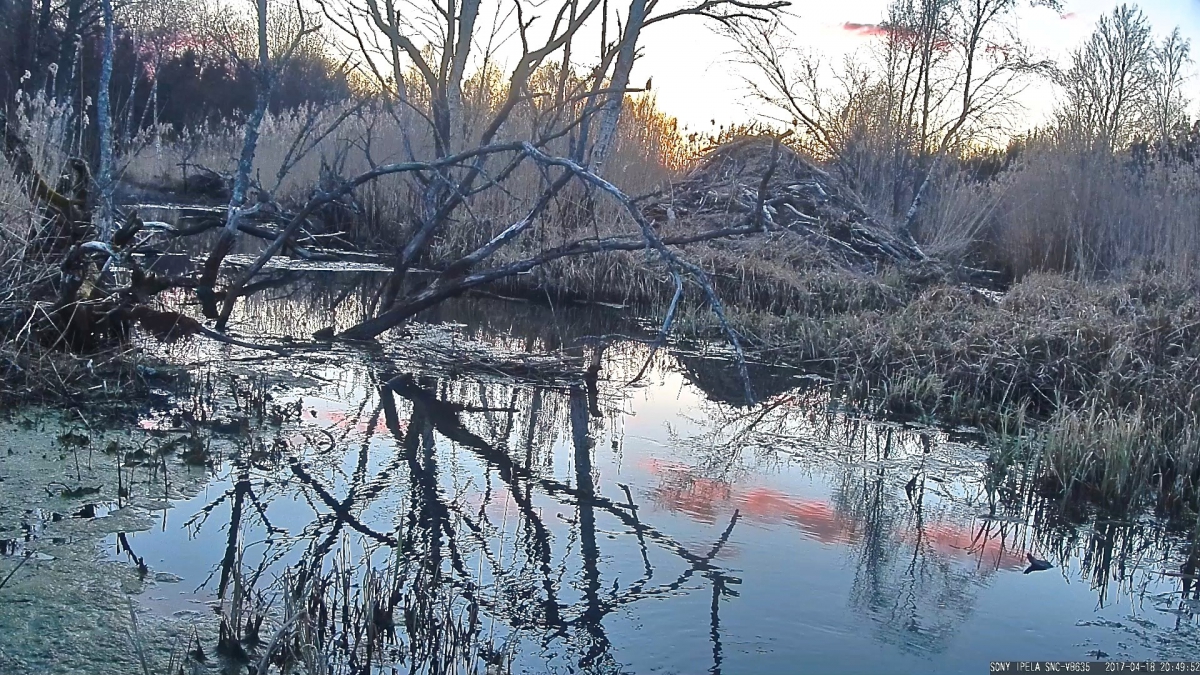 To the right of the lodge there is an about 300 m2 area with tens of beaver holes and ploughed-up furrows where fresh signs of activity are only visible at a few; probably they are used more in the summer. From one beaver hole a water vole slipped out instead. A couple of hundred meters away a birch was felled at the bank of a smallish ditch, a more distant copse was visited to gnaw at a recently felled aspen and to leave their tracks on the springtime snow …  
One of the aspens which can be felled within two-three hours has been only halfway done already for three weeks. We don't know what occasion the beaver is waiting for…
The video stream is carried by way of mobile towers by Teetormaja, and it is made visible to viewers by EENet.
Taking part in the venture: