Autorid
Information from Estonian Ornithological Society
Photo Tauri Pärna
Translation  Liis
Estonian text posted 31.01.2018
Image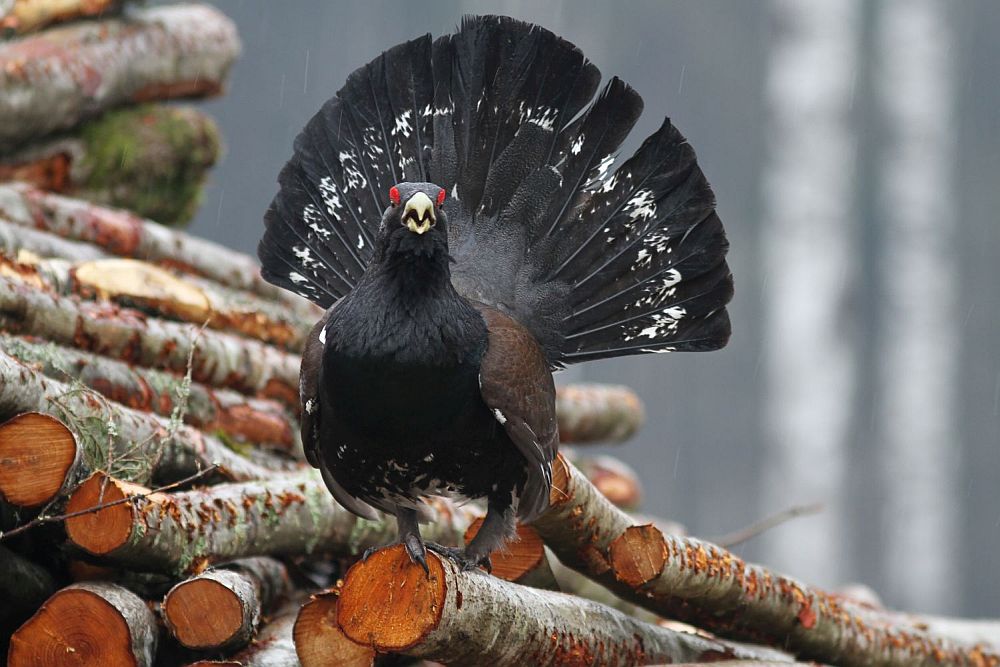 Body
Capercaillie cock
The Estonian Ornithological Society asks you to report observations of mad capercaillies.
Abnormally behaving capercaillie cocks and hens that are not afraid of humans, press into gardens and may even attack are referred to as mad. All such encounters from this year but also from earlier dates can be forwarded to the website of the capercaillie, the Bird of the Year 2018:  www.eoy.ee/metsis. 
The main reason for the abnormal behaviour of capercaillies is thought to be the changes that make their habitats and display (lek) areas no longer suitable for the purpose, the home forest of the capercaillie may for instance have become fragmented or destroyed. "The change in living conditions has often been accompanied by a large decrease in the numbers of capercaillie cocks as well as hens in the area," Andres Kalamees, manager for the EOY project Bird of the Year explained. "The madness is probably triggered by an overproduction  of sexual hormones because compared to common capercaillie cocks up to  five times  higher  levels of testosterone have been measured for mad cocks."
The first report of a mad capercaillie in Estonia is from 1938 in Hiiumaa, from mainland Estonia the first report came in 1961. The ratio between  mad male and female birds is about 2:1.
On the basis of the collected observations the Estonian Ornithological Society will compile an overview  of the distribution and frequency of mad capercaillies in Estonia  and analyze the possible relationship to the state of the capercaillie leks in the vicinity.
 Observations from earlier years are also welcome to the map application on the capercaillie website .Photos and videos of mad capercaillies can be posted in the  EOÜ Facebook group  or sent to  eoy@eoy.ee.
More to read about the capercaillie and other forest Galliformes birds is on the website of the Bird of the Year: www.eoy.ee/metsis  (in Estonian)
More information:
Andres Kalamees, Coordinator of the Bird of the Year project
5237544