Autorid
Trail camera clips and text  Ahto Täpsi
Photo Arne Ader
Translation Liis
Estonian text  posted 24.05.15
May 18 to 22.
Body
Ural. owl      Händkakk        Strix uralensis
The nice nest log for owls Ahto installed in the medium-aged spruce forest in January the year before last knowing that RMK would be felling  the neighbouring older forests – which was also done.
"I didn't go specially to check  the nest log but last week one night I noticed an owl flying at low height towards the nest log. Next morning I went to check and the owl was in the trunk and so I set up a trail camera."
"The video cuts show that the owl visited the place by day as well as night. In the nights he was simply busy longer around the trunk and so there are more recordings from night-time. The intervals between the visits of the owl at the nest log were roughly half an hour up to an  hour. The relatively large activity of the owl during daytime was a surprise. "
The Ural owl has its Estonian name, tailed owl, from its long tail that shows well in the videos. The sedentary birds have the same plumage all year round. The face mask of the Ural owl is ash grey with blackish brown eyes and a yellow beak. The wing  span of Ural owls with  their powerful and soft flight image is around 1,3 meters.  Characteristically for birds of prey the females are larger, weighing about a kilo and the males about 300 grams less.
There are felled areas near the nest trunk and they suit the Ural owls for hunting for their prey which is small rodents, passerines and amphibians. Similarly they are active in forest openings, forest meadows or the verges of forest roads. In Estonian forests about a couple of thousand Ural owl pairs nest.
If there are chicks in the nest log in the videos then perhaps the trail camera also will record the exit of the chicks from the nest trunk before the end of the month?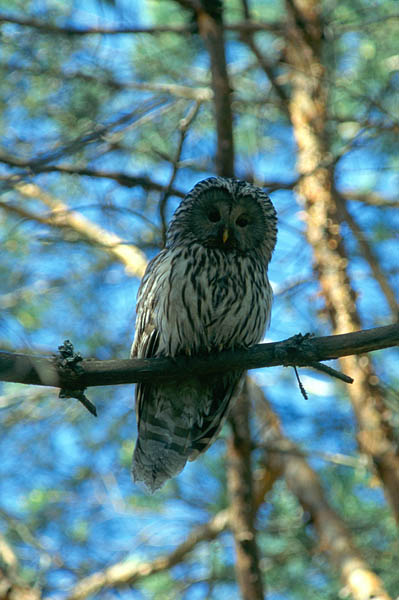 Ural owl