North Estonian Klint – what is it?
A renowned Estonian geologist Karl Orviku (1903–1981) states that the North Estonian Klint, which he names "limestone coast",consists of two escarpments (Orviku 1958). A. Tammekann (1949) and S. Künnapuu (1958) state that there are a number of lower limestone escarpments on the limestone plateau, to the south of the main escarpment (klint) abraded into Ordovician limestones.
Although the limestone escarpment is often the most conspicuous part of the North Estonian Klint, it is by far not always the only one: for instance, of the 56-m-high klint escarpment at Ontika, only the upper 15 m are composed of limestone and the lower 40 m are composed of both Ordovician and Cambrian sandstones and clays. The steep escarpment abraded into Cambrian sandstones and blue clay between Kunda and Toolse is 35 m high, while the gentle-sloping, hardly noticeable limestone escarpment on top of the plateau is only 10 m high.
A well-known klint researcher August Tammekann (1894–1959) also referred to the North Estonian Klint in Estonian as paekallas ("limestone coast"), in German – as Glint or Nordküste (1926) and in English – glint or cliff (1940), viewing the klint as a terrace-shaped landform separating the cuesta-like North Estonian Limestone Plateau from the coastal plateau to the north of it, beside the Gulf of Finland.
The Baltic Klint is an app. 1200-km-long system of erosional escarpments in Lower Palaeozoic (Cambrian to Ordovician) sedimentary rocks between the southern end of Öland Island in Sweden and Lake Ladoga (the estuary of the Syass River) in Russia. The klint follows more or less the boundary between the Fennoscandian (Baltic) Shield and the East European Platform.
The North Estonia Klint is an app. 300-km-long section of the Baltic Klint in North Estonia, between Osmussaar Island and the Narva River.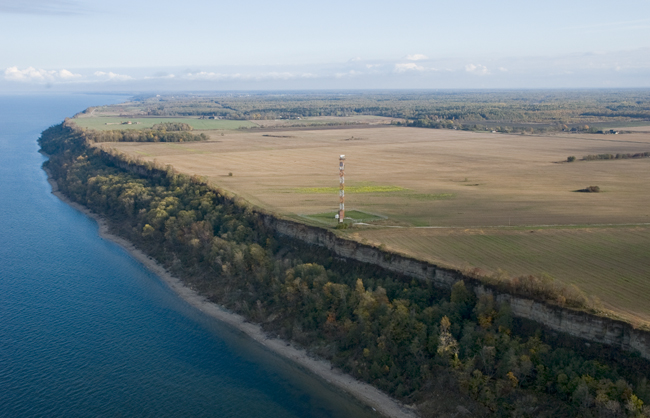 North Estonian Klint at Ontika Cliff.