Sisu
Moving along beaver paths you may also meet other semi-aquatic animals. Most frequently the American mink can be seen.
Posted by the Animal of the Year Team 23.02.2019
Compared to the beaver the mink is a quite small creature. A nature observer novice  may even wonder whether they see an otter or a mink. The mink is small, body length stops at 30-47 cm, the otter is half as much longer than the mink – body length 60-90 centimetres. As always with semi-aquatic animals minks and otters move out of  water too, splashing at the verge of the ice or along the bank of a water body. You will see their respective tails then and determine whom you have to do with from that. The tail of the mink is beautiful and fluffy! The otter has a rather stick-like tail.

The mink is a foreign species in Estonian nature that was brought to Europe in the beginning of the 21st century to fur animal farms;  they were also intentionally set loose. By now minks have spread over most of Northern and Eastern Europe. They often escape from fur farms. Its natural habitat is North America. The colour of a mink varies from dark brown to black, only the lower lip area is white. It has a fluffy but stubby tail. Sometimes you can also meet a white mink – such an animal is a crossbreed and originates from a fur farm. The mink is a very quick and agile creature, a good runner and  jumper, excellent swimmer and diver. Its basic food is fish. in addition also frogs, crayfish. molluscs, birds. It does not abstain from small mammals either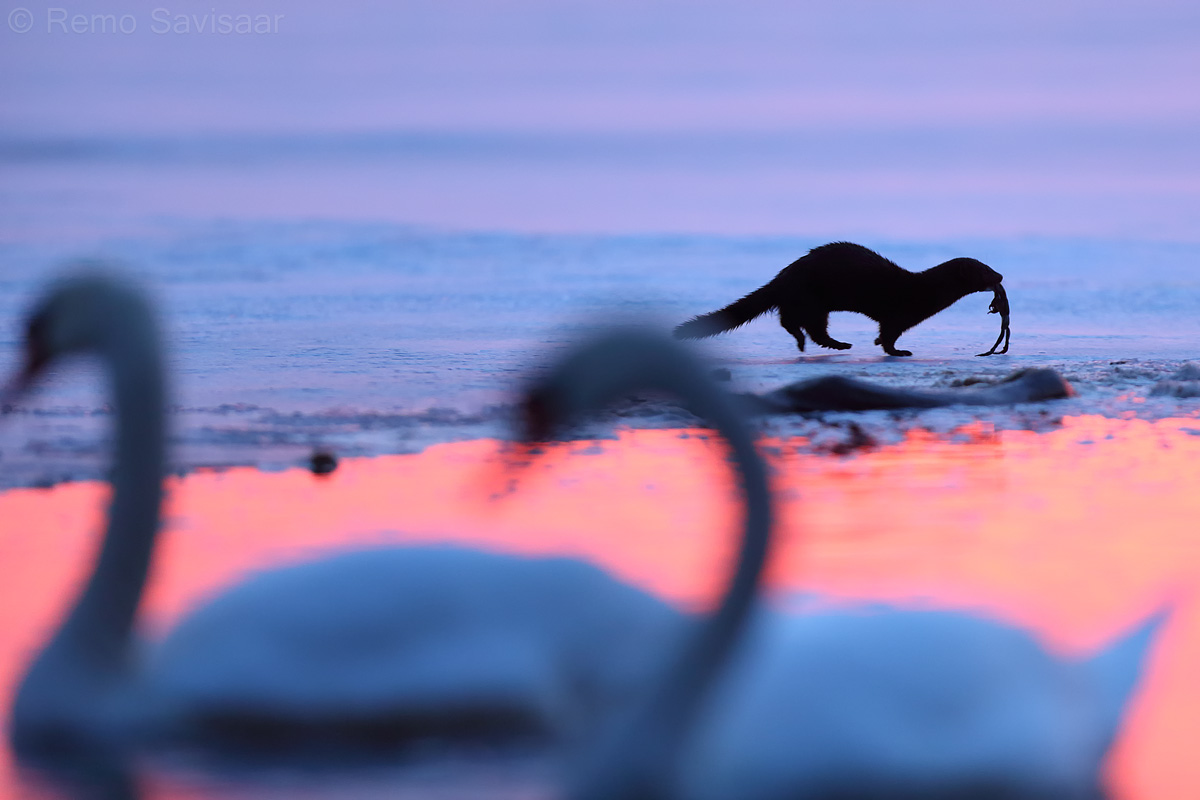 Minks lead a solitary life and are generally active at night but they may also be out in daytime. Basically they live near water bodies, fresh water as well as seawater, with rocks and plenty of sheltering opportunities. The mink is not primarily a den digger but sleeps under tree roots, in old beaver dens, in hollow tree trunks, under boats etc. In search of food they may move some kilometres away from the water. Their heat period is from the end of February until April – now they can be observed when the animals are more active in daytime too. The mink can be quite curious and sometimes even brave. It may for instance approach to observe a fisherman quietly waiting on the bank and can even try to snatch a fish from the latter.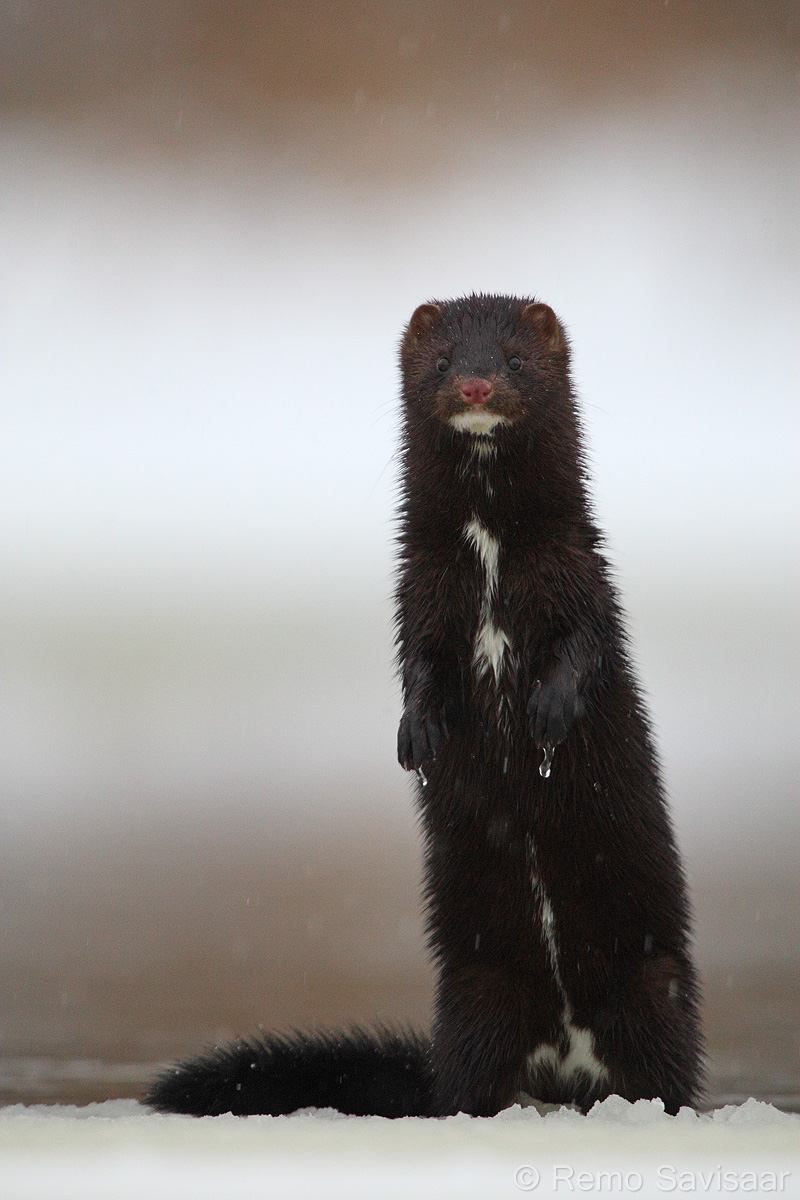 The animal that is so very similar to the American mink is the European mink – our native species. Regrettably the American mink has driven off our mink from nature. The European mink can only be seen in Hiiumaa where they have been set out repeatedly  in order to re-establish the population. The European mink resembles the American mink and the polecat. The lower lip of the American mink is white; the European mink also has a white upper part of the snout which is a good identification characteristic. The European mink lacks the facial mask of the polecat, and it is smaller than the polecat and the American mink.
Remo Savisaar